Old Montréal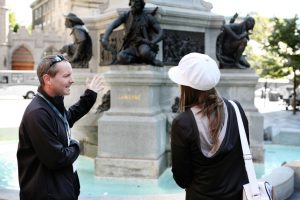 Find out more about all the eras that shaped Montréal with this interesting walking tour, from the foundation of Fort Ville-Marie in 1642 to today's modern city. The historic heart of the city and its adjacent Old Port will help illuminate the story of one of the greatest cities in the Americas.
Your guide will lead you through a maze of narrow streets where you can find a multitude of historic buildings. Explore the birthplace of our metropolis and experience a special voyage back in time!
Also planning on visiting Québec City or Ottawa? Do it in our company!
Highlights & Sites visited
Here is an example of a typical tour:
Walk to many important public squares such as Place d'Armes, Place Royale, and Place Jacques-Cartier and see the monuments and works of art that are on display there.
Admire the external architecture of a variety of impressive buildings: the three courthouses, the Château Ramezay and the Bonsecours Market.
Venture into other historic buildings such as the famous Notre-Dame Basilica, if you desire ($).
Pass by the Notre-Dame-de-Bon-Secours Chapel, City Hall as well as walk along the former "Wall Street" of Canada, St-Jacques Street.
Just off the charming Saint-Paul Street, discover the foundation site of the city's first hospital, l'Hôtel Dieu, in the Cours Le Royer.
No visit is complete without a picture of the Sulpician Seminary, the oldest building of the historic district.
An introduction to the Old Port is also on the program.
Practical Information & Reservation
We can customize the duration, the circuit and the content of the tour at any time, according to your needs and interests. Contact us for more information or to book a tour.
Schedule: year-round, day and time of your choice. For individuals, Old Montréal walking tours on fixed schedules with guaranteed departures are also available from March to December.
Suggested length: 2 hrs minimum (2 ½ hrs including the visit of Notre-Dame Basilica, for which admission fees apply).
Maximum recommended: 12 to 15 people per guide.
20210 Rate: $170 (including taxes) for the private guide service of 2 hours. Gratuity at your discretion.