Underground City and Downtown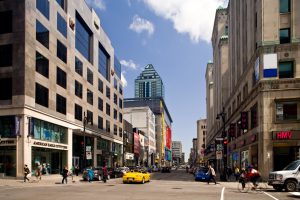 Book Now!
This walking tour will lead you not only through the streets of the downtown but beneath through its RÉSO (Underground Pedestrian Network), known by Montrealers as the Underground City. Measuring 33km in length, this network of interior galleries is one of the largest in the world. See how the buildings of the city and their different underground passageways make Montréal so unique.
Discover Montréal above…
Montréal's downtown is both the heart of the city and one of its most vibrant and cosmopolitan areas. Accompanied by your guide, discover this effervescent neighbourhood and learn about its history with your guide.
And Beneath…
When passing through the interior city and its tunnels connecting metro stations and buildings (nearly 1,700 boutiques, 200 restaurants, universities, movie theatres, apartments, art centers, museums, arena and more), you will come to understand how 500 000 people per day can go to work, go to the movies, or even go shopping without having to go outside.
Highlights & Sites visited
Here is an example of a typical tour:
See the luxurious Fairmont The Queen Elizabeth Hotel and its brand new interior design. Be amazed by the first indoor tableaux for Cité Mémoire, a unique urban multimedia experience.
See Dorchester Square and Canada Place. There you will be able to appreciate modern architecture as well as several buildings from the previous century, such as the Sun Life Building, Mary Queen of the World Cathedral and Windsor Station.
Admire the many works of art on display from Promenades Cathédrale to Place Montréal Trust, passing through Complexe Les Ailes.
Walk along Saint-Catherine Street, Canada's most important commercial artery with over 1,200 shops.
Also on the itinerary: Place Ville Marie, Central Station and McGill University.
Or choose an alternative route that includes:
Place des Arts, the Palais des congrès (our convention centre) and the World Trade Centre Montréal, in the heart of Montréal's Quartier international.
Practical Information & Reservation
Length: 2 hrs.
Schedule: Departures upon reservation at 10:00 a.m. & 2:00 p.m. year-round, in the lobby of the Fairmont Queen Elizabeth, near the concierge's desk.
We can customize the departure time, the duration, the circuit and the content of the tour at any time, according to your needs and interests. Contact us for more information or to book a more customized tour over the phone.
Rate: $195 (including taxes) per group. Gratuity at your discretion.
Maximum recommended: 12 to 15 people per guide.
Reserve your Underground City and Downtown Montréal Private Tour
The rates below are in Canadian dollars and include taxes. Gratuity left to your discretion.
IMPORTANT! If you experience any display problems (blank screen) after pressing the Checkout button under the calendar below, click on the cart icon and your selection should appear on your screen. Then press the Checkout button to complete your reservation.

_ _ _
Photo Credits 2 & 3: © Tourisme Montréal, Mario Melillo / © Montreal Eaton Center, Stéphan Poulin