Christmas Secrets Old Montréal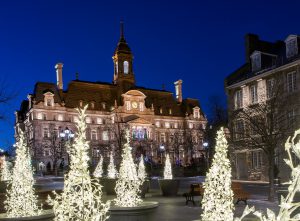 COVID-19: Special measures and latest news
Book Now!
Led by your professional guide, wander through the historic streets of Old Montréal, from Victoria Square to Bonsecours Market, discovering the secrets of Christmases past. Discover Old Montréal in a new light and get wrapped up in the holiday spirit!
Highlights & Sites visited
On a typical tour, for example, you will experience:
See the historic district during this magical time of year and succumb to its winter charm.
Be introduced to the origins of holiday traditions that have been part of our culture for many years. New France customs in particular will surely fascinate many.
Experience this special time of year through the Santa Claus exhibit at Montréal's World Trade Center.
Admire the lively shop windows and sparkling decorations of Old Montréal shops, museums and hotel lobbies.
Pass by place d'Armes, the Notre-Dame Basilica or even Jacques-Cartier Place that all look especially festive during this time of year.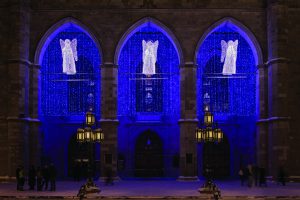 Practical Information & Reservation
We can customize the duration, the circuit and the content of the tour at any time, according to your needs and interests. Contact us for more information or to book a tour.
Schedule: year-round, day and time of your choice, according to availability (we suggest you take this tour in late afternoon or early evening in order to better appreciate the Christmas lights).
Visits with guaranteed departures on a set time schedule also available for individuals.
Suggested length: 90 minutes.
Maximum recommended: 12 to 15 people per guide.
2021 Rate: $200 (including taxes) for the private guide service of 90 minutes. Gratuity at your discretion.
Book your Private Christmas Secrets Old Montréal Tour.
_ _ _
Photo Credit 1 & 2: © Tourisme Montréal, Matthieu Dupuis