All About Montréal's Murals
In the company of a professional guide, students will discover the origin and the current place of mural art in Montréal, on a path marked with unique and eclectic works of art. A veritable open-air museum, Montréal has become a hotspot for street art in North America. Montréal even rivals international capitals famous for their magnificent graffiti and outdoor murals.
Focusing mainly on the St-Laurent Boulevard axis and taking intriguing detours in surrounding streets and alleys, this colourful visit will allow you to admire some of the most lively and creative Montréal murals while highlighting the talent of the artists and collectives behind them.
Guidatour specializes in the development of tours and scavenger hunts that are both fun and educational for youth, including both younger and older children or teenagers. Take a look at all our educational visits or contact us for more details or to reserve!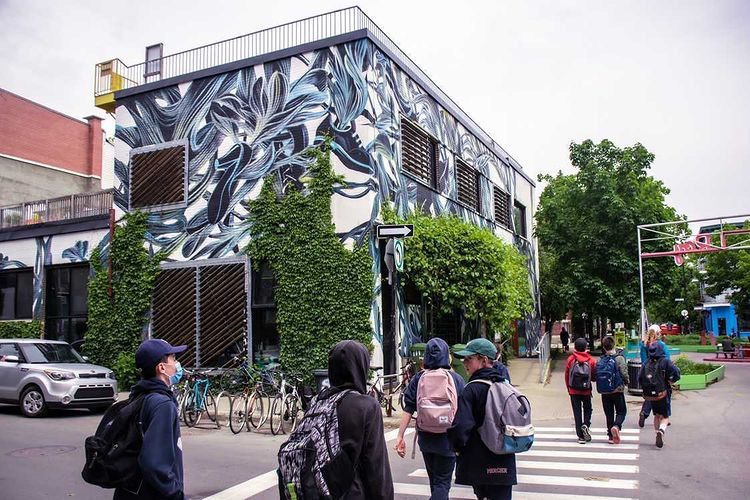 Highlights & Sites visited
Here is an example of what you can expect on a typical tour:
Explore the MURAL Festival zone, named after an unmissable event that played a key role in democratizing urban art. Some of Montréal's most impressive murals can be found there.
Further South, in the heart of the Entertainment District (Quartier des spectacles), you will also encounter some astounding murals, among which those created by Phillip Adams and David Guinn, from the MU organism.
Learn more about the emergence and evolution of muralism and how it was first developed around popular themes and national propaganda, specifically in Mexico in the 1920s.
Discover that Montréal was the first Canadian city to develop this form of art in the 1970s and learn how the muralist movement grew to become so significant to the city.
Practical Information
Designed for students aged 8 and older.
Length: 2 hours.
Minimum: 15 students.
Rate (including taxes): $15.75 / student.
Complimentary ticket for 1 teacher or chaperone per 15 students.
Gratuity included.
Reserve your Montréal's Murals' Educational Tour
Reservation is mandatory, at the date and time of your choice (depending on availability). Contact us for more details or to reserve!
_ _ _
Photos: © Jonathan Riverin