Must Do: A Holidays Themed Private Tour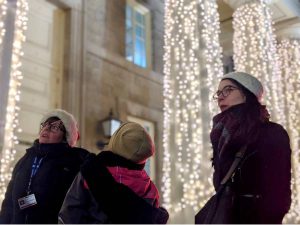 Until January 10th, 2021, Guidatour is offering its Christmas Secrets of Old Montréal private walking tour, to be enjoyed with friends and family (maximum 8 participants), at a time of your choosing. The holidays will be quite different this year, but we can find new ways of celebrating!
Guidatour's president, Angèle Vermette, is delighted to be able to offer this tour: "I'm so happy that people who want to come together or who simply want to get into the holiday spirit can take advantage of this great activity. At this time of year, with all the decorations and lights, Old Montréal is just magical at night. Even for Montrealers, our guides have so much to show you, and, most of all, it really is enchanting. Let's seize the opportunity while we can!"
Led by a professional guide, this 90-minute circuit winds its way through Old Montréal, from the old Royal Bank building on Saint-Jacques Street to Bonsecours Market. It provides an interesting historical overview of the city's birthplace, and of course, it touches upon Christmas themes such as the customs and traditions during the New France period as well as other long-established traditions from our culture. In short, it's an activity that allows you to learn, to be active, to have fun, and to enjoy the magic of the holidays.
Reservations must be made online or by telephone. You can also visit this page for more information regarding all available tours as well as the health and safety measures in place, including the mandatory wearing of masks, and physical distancing between members of separate households. We look forward to welcoming you!