10 Reasons to Visit Dowtown This Summer
Montrealers love their downtown. Unlike some major cities where the downtown is synonymous with boring business district, a place that empties out come 5 p.m., Montréal's core is a bustling, happening place where people can enjoy a variety of top notch businesses and activities.
While Covid has had an effect on our beloved downtown, Montréal is swinging back with a vengeance. Here are a few reasons we love downtown Montréal, particularly this summer and why you should too.
1. The Ring and the view to Mount Royal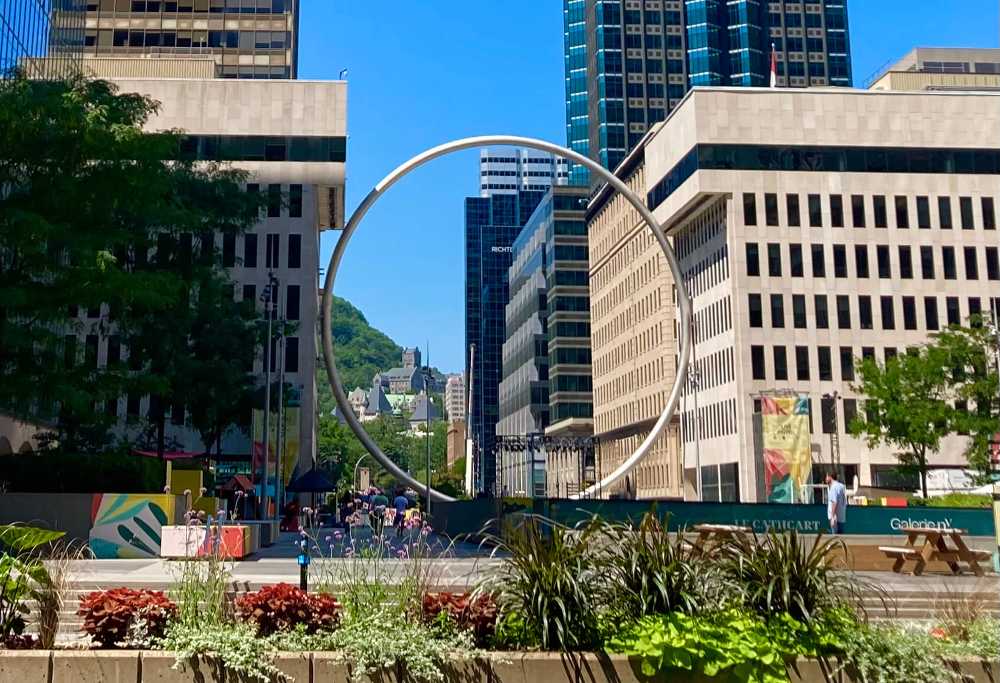 © Bruno Lajeunesse
Frodo, step aside. Montréal's new ring may not make you invisible or allow you to rule over Middle Earth, but it is certainly one of the biggest rings out there. And though some people might be wondering what practical use this installation has, most Montrealers have already understood that we haven't gotten this far as a creative city by only ever being practical.
The creator of The Ring, Claude Cormier, is known for a whole host of quirky projects, not the least of which was the 18 Shades of Gay installation in the Gay Village: 180,000 resin balls in the colours of the rainbow were suspended in strands over 1 kilometre of Sainte-Catherine Street. His latest installation perfectly frames the view from Place Ville Marie onto McGill College Avenue and beyond, onto Mount Royal.
Ring, we love you and all that you say about us as a city.
2. Next gen food courts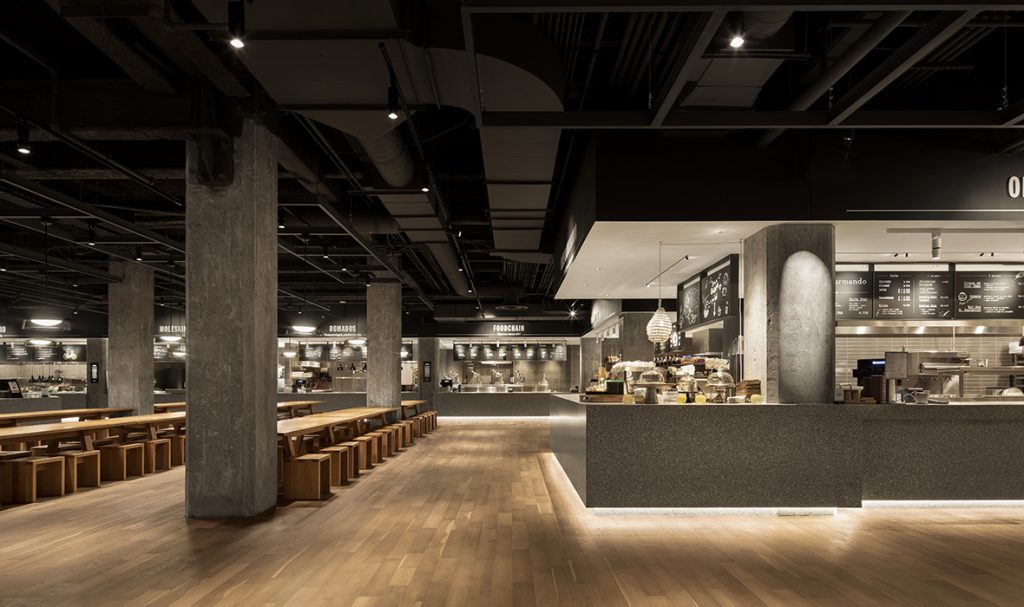 © Lemay Michaud
Although they have been around a little while already, it feels like Covid has prevented many us from fully enjoying them until now. Opened in 2019 or just before the pandemic, Le Central, Time Out Market, and Le Cathcart all have a spectacular selection of food, proving that just because you're in a food court, doesn't mean you have to eat a lousy meal.
Referred to as a way to "democratize fine dining", the food at these locations is prepared mostly by local chefs and well-established restaurants. It's a way to try some of the most famous culinary names in Montréal without breaking the bank. That, and if you're a tourist pressed for time, you could taste your way through many of Montréal's classic dishes without leaving the building. Finally, throw in events and an instagrammable decor and you've got something worth checking out.
3. Free Métro rides this summer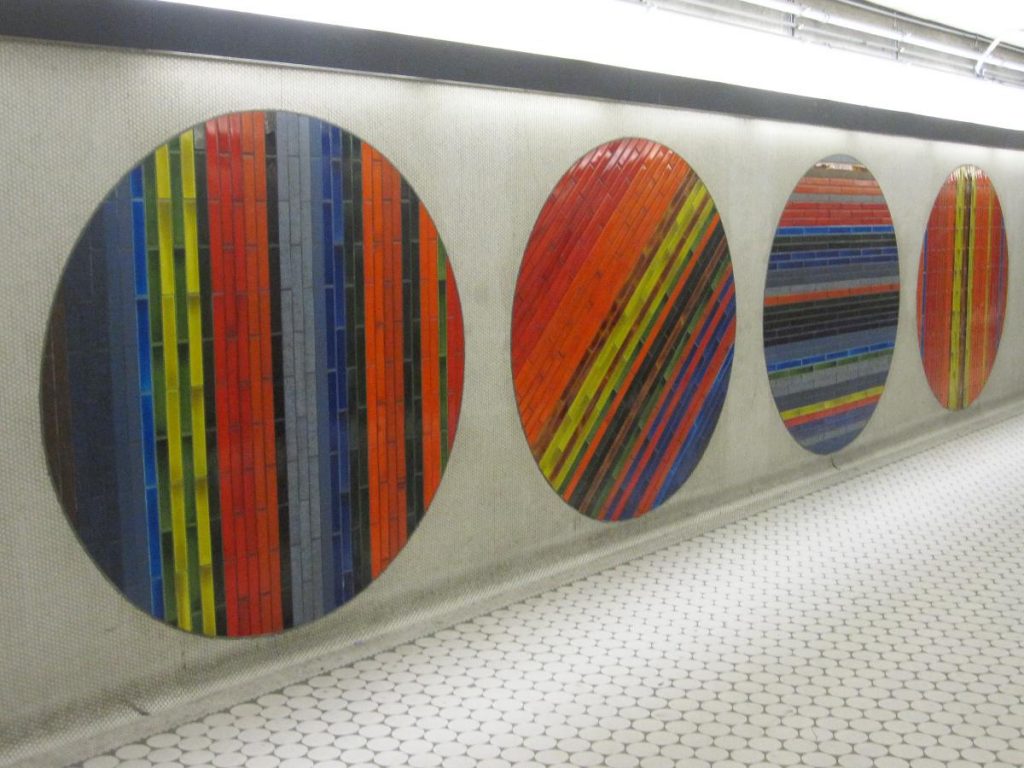 © STM
Montréal would not be Montréal without its Métro. Because each station is different, everybody has their favourites. Think about that… 68 stations, all designed separately by different people, each one a unique experience.
This summer, seven iconic stations from the original 1966 network, all located downtown, will be free to access on weekends and public holidays until Labour Day. They are: Peel, McGill, Place-des-Arts, Saint-Laurent, Berri-UQAM, Champ-de-Mars, and Place-d'Armes. If you've never taken the time to visit Peel, now is your chance! It was the first station to feature art integrated into the architecture, and we have to say, Jean-Paul Mousseau's circles make for a great photo op.
4. The new Phillips Square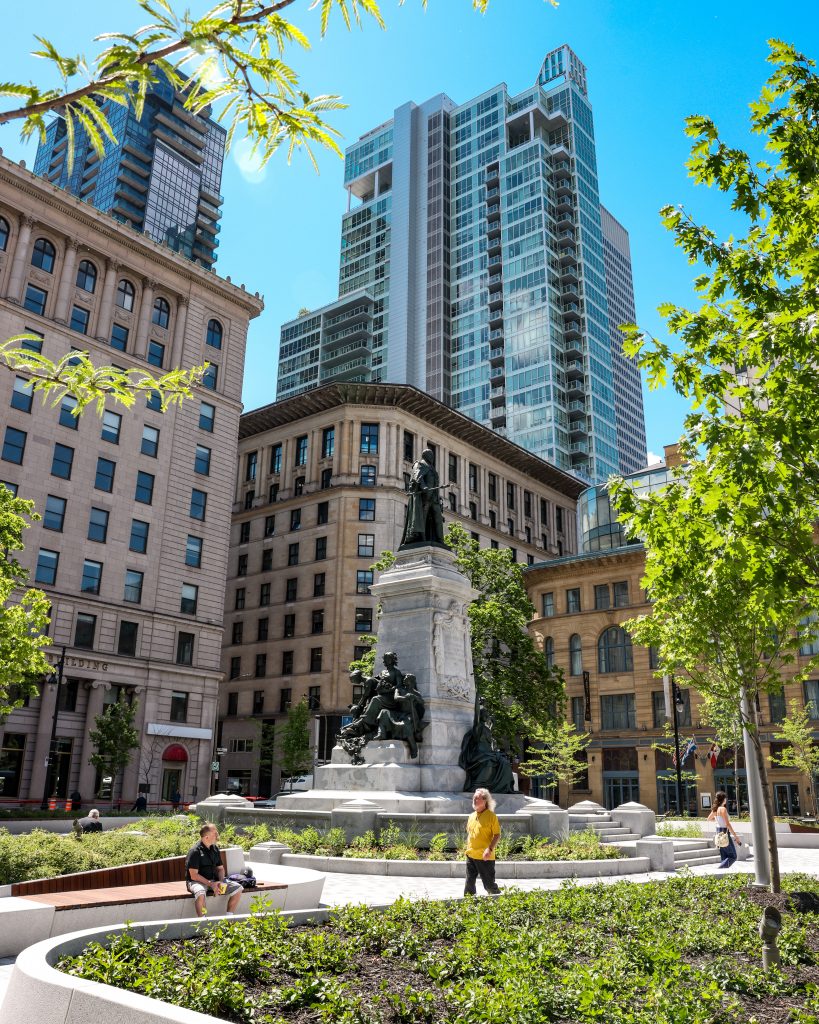 © Jean-François Savaria, Tourisme Montréal
Sometimes Montréal feels like one giant construction zone and the detours can give residents massive headaches. That's why it's important to celebrate projects as they are completed! Have you seen the new Phillips Square? Come check out the new parts of Sainte-Catherine while you're at it. I think most of us would agree it's a huge upgrade and the downtown has never looked better.
Once upon a time this space was little more than a cow pasture. Thomas Phillips's wife gave it to the city after her husband's death, hoping it would become a belvedere linking their emerging neighbourhood with the shops around Victoria Square at the bottom of the hill. Since the revamp, the square is 35% bigger and has three times the number of trees, making it a green oasis in the heart of the business and shopping district.
5. All about murals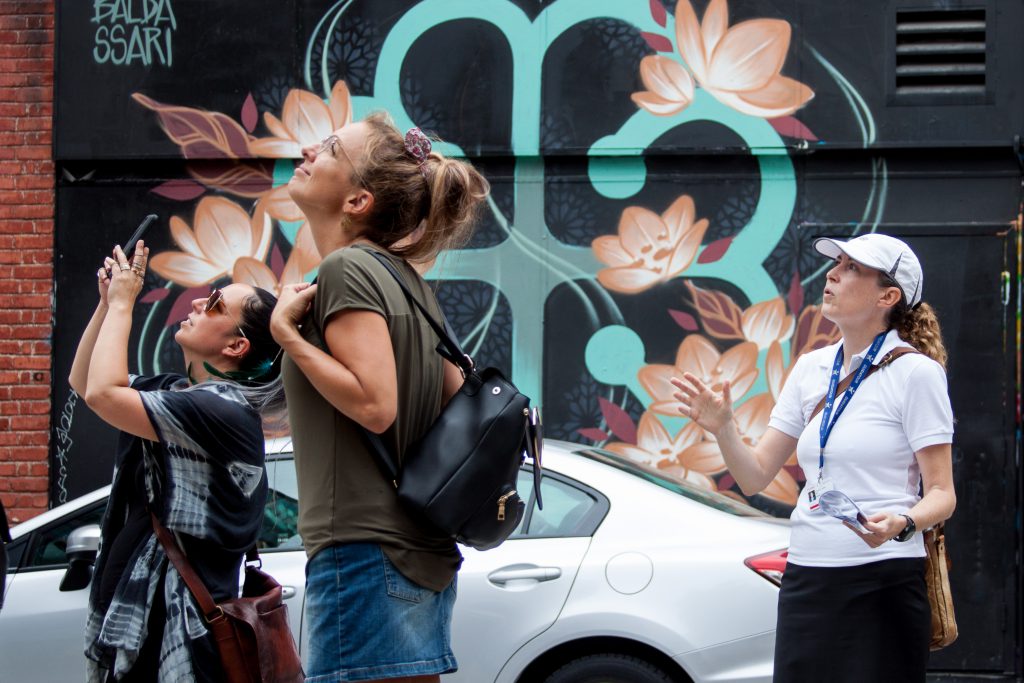 © Guidatour
The MURAL Festival may be centred around Saint-Laurent Boulevard above Sherbrooke Street, but that hasn't stopped them from sponsoring a handful of murals in the downtown these last couple of years, including the spectacular Michelle Hoogveld mural at Mansfield and President-Kennedy Streets, as well as the brand-new Drew Young mural at the corner of Guy Street and René-Lévesque Boulevard.
Not only that, but the area just east of Saint-Laurent on either side of Sainte-Catherine Street is the domain of Under Pressure, Montréal's original urban culture festival which includes the most amazing graffiti and murals.
The best way to get to know about both festivals and really get an appreciation for Montréal's buzzing street art scene is to take the All About Murals tour, of course! Tours take place every Saturday at 10:30 a.m. in English or 1:00 p.m. in French. You can buy your ticket here.
6. Two amazing art museums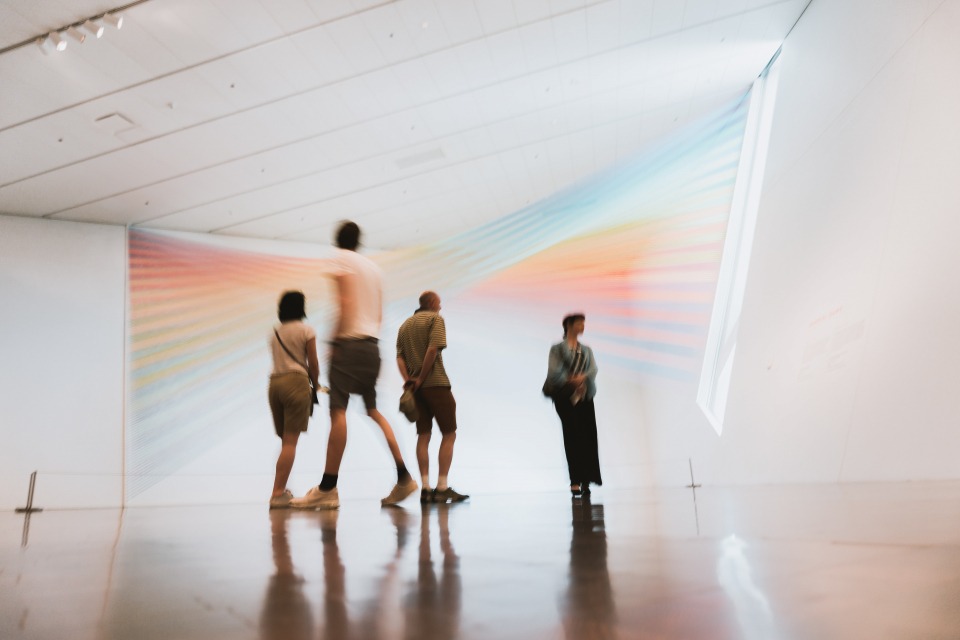 © Ian Dooley, Place Ville-Marie
Another reason we love downtown is for the international calibre art museums found there. The Montréal Museum of Fine Arts has been around in one form or another since 1860 and has hosted or launched a wide variety of shows through the years, including retrospectives of Alexander Calder, Thierry Mugler, and Warhol to name just a few. This summer you can go check out Nicolas Party – L'heure mauve until October 16th.
As for the Musée d'art contemporain, or the MAC as locals like to call it, their collection contains nearly 8,000 works of art including the largest collection of works by Paul-Émile Borduas, the celebrated Québecois artist and chief author of the Refus global. The MAC also curated the Leonard Cohen – A Crack in Everything show that attracted over 200,000 people. The exhibit is now available online for those who missed it or those who just want to relive it!
The one big problem with the MAC was their lack of exhibit space. They're in the process of fixing that, which means that for the next two years, you will have to go visit them in their temporary space at Place Ville Marie. This summer, go discover Mika Rottenberg, exhibited until October 10th.
7. The terrasses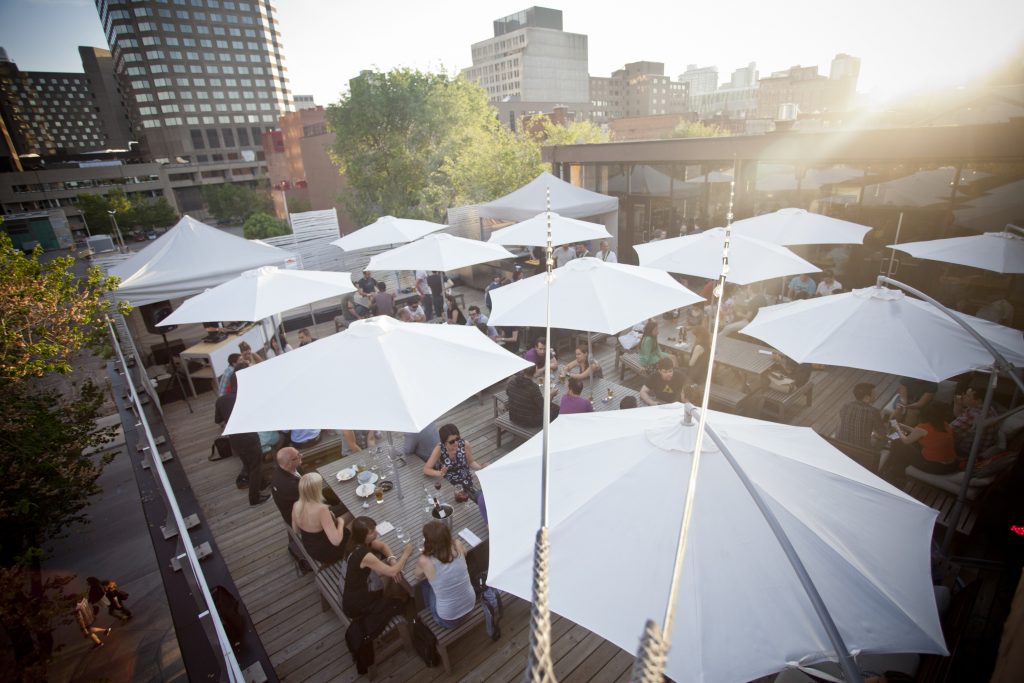 © Sébastien Roy, Tourisme Montréal
We've already mentioned the food courts, and of course Montréal has a fantastic selection of restaurants to suit every taste and most budgets, but what we really enjoy in the summer are terrasses. Just the name "terrasse" (accent on the second syllable) is quintessentially Montréal. Sipping on a drink while watching the world go by is one of life's greatest joys. Here are some of our favourite spots downtown.
To start, the highest terrasse of them all, Les Enfants Terribles atop Place Ville Marie. It really is hard to beat a view like this, more than 180 metres off the ground. For something much more relaxed, we enjoy the cozy backyard feel of McKibbin's Irish Pub on Bishop Street. A classic. Not too far away, a visit to Chez Alexandre will momentarily transport you to a Paris café. Watching people go by from your vantage point on busy Peel Street is definitely part of the appeal. For an evening of refinement and culinary adventure, the SAT Foodlab is where it's at. Comfortable yet sophisticated, this terrasse is the perfect jumping off point for a night on the town.
There are countless amazing terrasses in Montréal. To find out about our favourites in nearby Old Montréal, check out last summer's blog post.
8. Festivals and events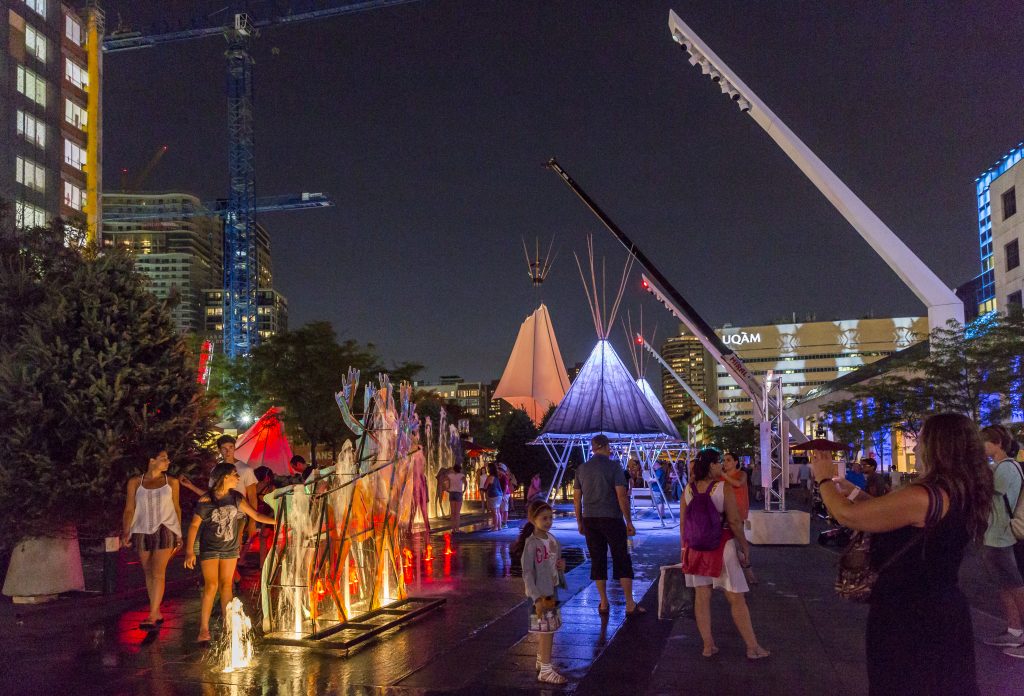 © Eva Blue, Tourisme Montréal
You didn't think we would forget festivals, did you? As a tourist, if you manage to visit Montréal and not go to a festival or show of some kind, then you need to come back and visit again. Festivals, parades, and events of every kind are part of the DNA of this city.
In the downtown entertainment district alone (which we call Quartier des spectacles), there are over 100 shows per month. Not a day goes by that there isn't something to do in the area, including concerts, vernissages, comedy shows, etc. Some of our favourite ones, beyond the well-known jazz festival and the Just For Laughs comedy festival, include the International First Peoples Festival and the Mode + Design Festival, both in August.
9. The people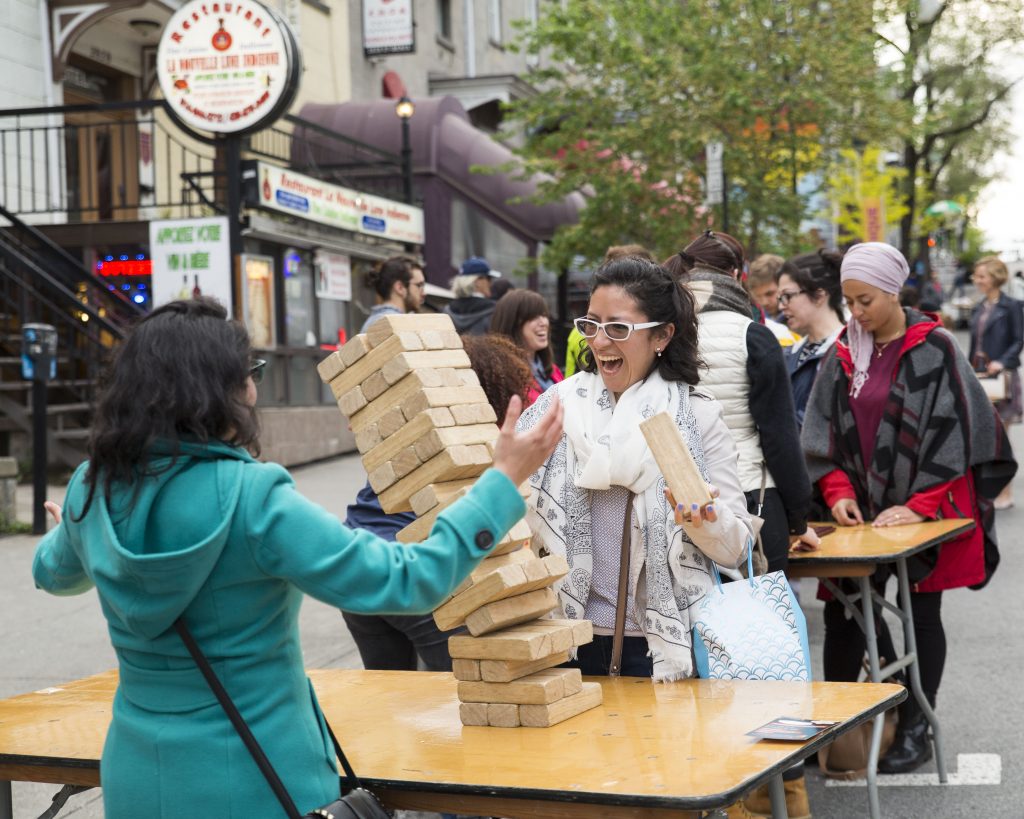 © Louis-Charles Dumais, Dumais photos
What we love most about Montréal are its people. If you think about it, the restaurants, the festivals, the carefully curated exhibits and skillfully mixed cocktails – none of this would exist without them. And how lonely would it be to go sit on that terrasse all alone, staring at an empty sidewalk. The people of the downtown are what give it life.
With three universities between Atwater and Berri Streets, students are responsible for a significant part of the vibe that we have in the downtown. Thanks to them, a large number of businesses cater to the needs of the budget-constrained, keeping things affordable and unpretentious. Alongside them, we see office workers, tourists, residents going about their business, as well as all the people coming to the city's core for cultural activities. What a mix! People of all ages, of all walks of life. This is Montréal.
10. A free tour of the downtown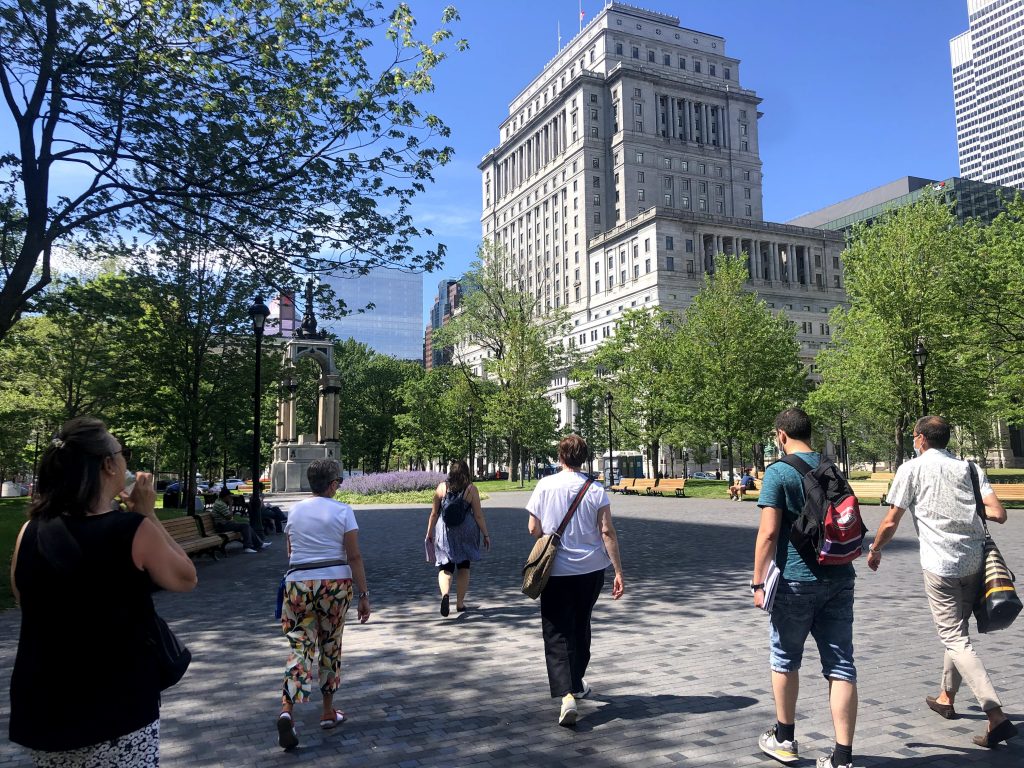 © Guidatour
As you can see, we're big fans of the place, so much so that we decided to team up with Montréal centre-ville to offer a free tour of the downtown! Yet another reason to love the city centre.
If you ever wondered why the downtown didn't just stay where Old Montréal is today (it was the "downtown" until the beginning of the 20th century), if you have to find out what the big deal is with the underground city people keep talking about, or if you just want to take the time to find out about some of the public art in the neighbourhood, then this tour is for you.
Starting at Dorchester Square and ending at the nearby Time Out Market on Sainte-Catherine Street, this 2-hour tour features historical and architectural content, anecdotes, all delivered in a light-hearted tone by a passionate guide from Guidatour. You have until September to book your spot.
As we mentioned at the top, the pandemic has been a hard blow. But downtown Montréal is bouncing back with all the things that made it so much fun before and a few new tricks up its sleeve. We're sure you'll want to check it out this summer. See you there!