What's it like, being a Montréal city tour guide?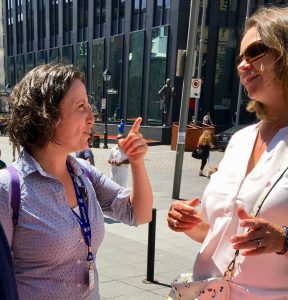 Have you ever wondered how someone becomes a Montréal tour guide? Perhaps not!
While 1 in 10 employed Canadians work in the tourism industry, it's not often we hear about tour guides, let alone spontaneously think about them. This is probably because tour guides represent a small fraction of hospitality and tourism workers. The first time you noticed someone guiding was probably when you were on vacation outside of your city or country!
Before we go any further, it will be useful to identify different types of guides. Of course, there are a lot of overlapping skill sets, and many guides do more than just one type of guiding.
Cover photo: Montréal tour guide Camille Maurice-Dupuis during an Old Montréal walking tour ©Guidatour
Different types of guides
If we look at the province of Québec, there are four types of guides, represented by five associations.
1- Association of Professional Adventure Tour Guides (AGPTA)
There's the Association of Professional Adventure Tour Guides, which is pretty self-explanatory. If you're teaching tourists to kayak and know your poison ivy from your Virginia creeper, you're probably a member of this association.
2- Québec Association of Heritage Interpreters (AQIP)
The Québec Association of Heritage Interpreters (AQIP) is for interpreters, educators, and facilitators that mostly work for museums and historic sites. These guides know their subject matter completely and thoroughly; they know the site that they present inside and out and are focused on getting the public to engage with it.
3- Corporation of Québec Tour Managers (CGAQ)
The Corporation of Québec Tour Managers (CGAQ) represents guides who accompany tourists on multi-day trips, usually from one city to another. These guides take care of all the logistics. Is the bus on time? Are the hotel reservations for the correct day? (In the correct city!?) Does the restaurant know we will be arriving late? They also impart vast quantities of information to their groups on a wide range of topics. The tour manager is the guide everywhere during the trip, except where there is a local guide in a specific city.
4- Québec City Tour Guide Association (AGTQ) and Montréal Professional Tourist Guide Association (APGT)
In the province of Québec, there are two local city guide associations.
To be a member of the Québec City Tour Guide Association (AGTQ) you must follow a semester long course at CEGEP level and obtain your permit annually from the City of Québec.
To join the Montréal Professional Tourist Guide Association (APGT) you must follow a 240-hour course at the Institut de Tourisme et d'Hôtellerie du Québec (ITHQ), one of Québec's premiere tourism and hotel industry schools. You also have to obtain your permit annually from the City of Montréal.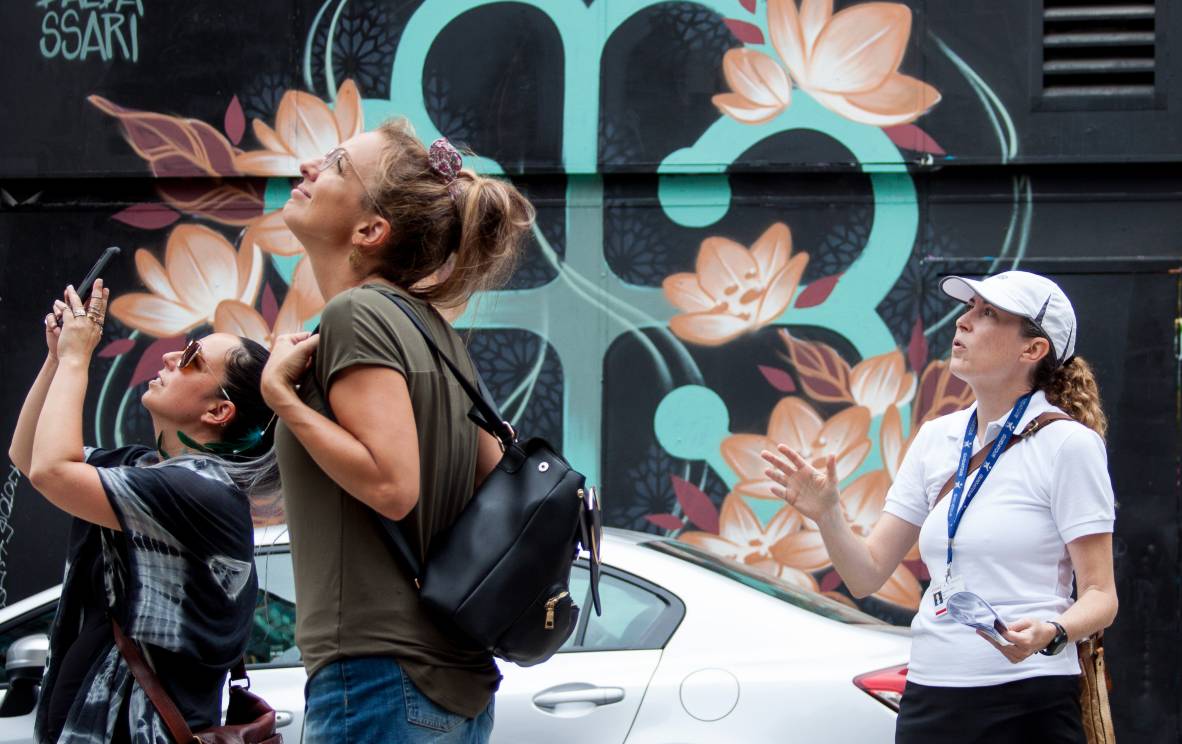 Photo: Montréal tour guide Sarah Montpetit during a Montréal Murals' guided tour ©Guidatour
The Montréal City guide, a true professional
Yes, that's right, all accredited Montréal guides have successfully followed 240 hours of class time on the history and geography of the city, its art and architecture, and its people. There's also a significant portion of the course that is dedicated to guiding techniques. This is where guides practice preparing interesting tour content and delivering it in a meaningful way. They work on a wide range of skills, from adapting content to different types of audiences to learning how to time their delivery when guiding in a moving vehicle.
Even though 240 hours sounds like a lot, the course is really only the beginning. All guides will tell you that the learning never ends. And luckily, there are lots of resources to help with that. Among other benefits, the local association offers members conferences and guided tours of museums and new attractions.
"We're professionals, duly trained, and thanks to our professional association we have access to ongoing professional development."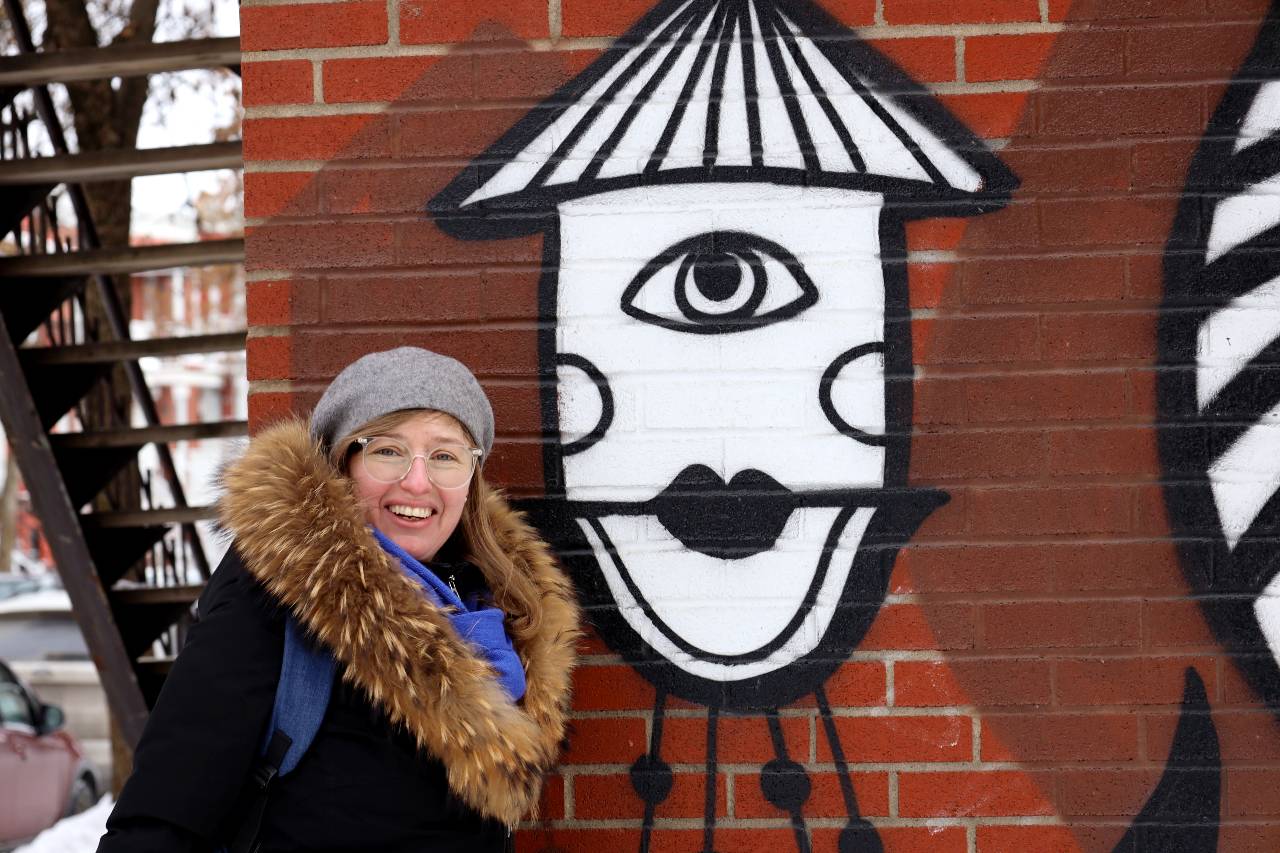 Photo: Montréal tour guide Caroline Prenovost ©SarahMontpetit/Guidatour
There's also the World Federation of Tourist Guide Associations (WFTGA) that represents and supports tour guides at the international level. They also facilitate additional training opportunities and organize a bi-annual international conference.
Friendly leaders with a healthy dose of curiosity
All this training and knowledge is one thing, but guides often share certain personal characteristics that make them successful in their job.
As you may have guessed, guides are generally friendly, adaptable people that get along with just about everybody. But there's definitely a leader in there somewhere, too. After all, city guides have up to 55 people following them around for a couple of hours or more, hanging on their every word. It can be a bit like teaching!
It's thrilling work that reminds me a lot of teaching. I think that to be a good guide you basically need the same skills and attributes.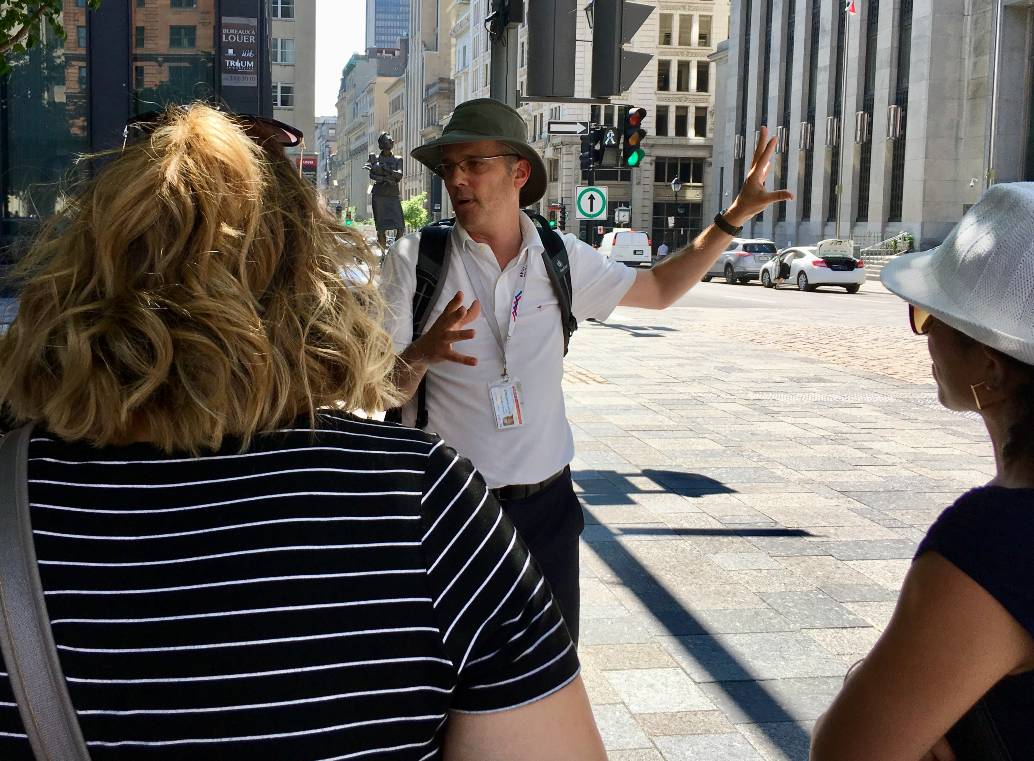 Photo: Montréal tour guide Martin Robitaille leading a walking tour of Old Montréal ©Guidatour
Another one of the most important characteristics found in great guides is curiosity. As we said above, the learning never ends. Great guides have this insatiable curiosity that makes them dig up new pieces of information all the time. They go to new museum exhibits, they read books, they stay on top of their respective interests and are some of the most in-the-know Montrealers out there.
"While it's true that for us it's about passion and we're lucky if we can live entirely off guiding, all accredited Montréal guides take this profession seriously. We're completely invested in it. We're always self-educating, reading, doing research to increase our knowledge."
-Amélie Rolland-Lamothe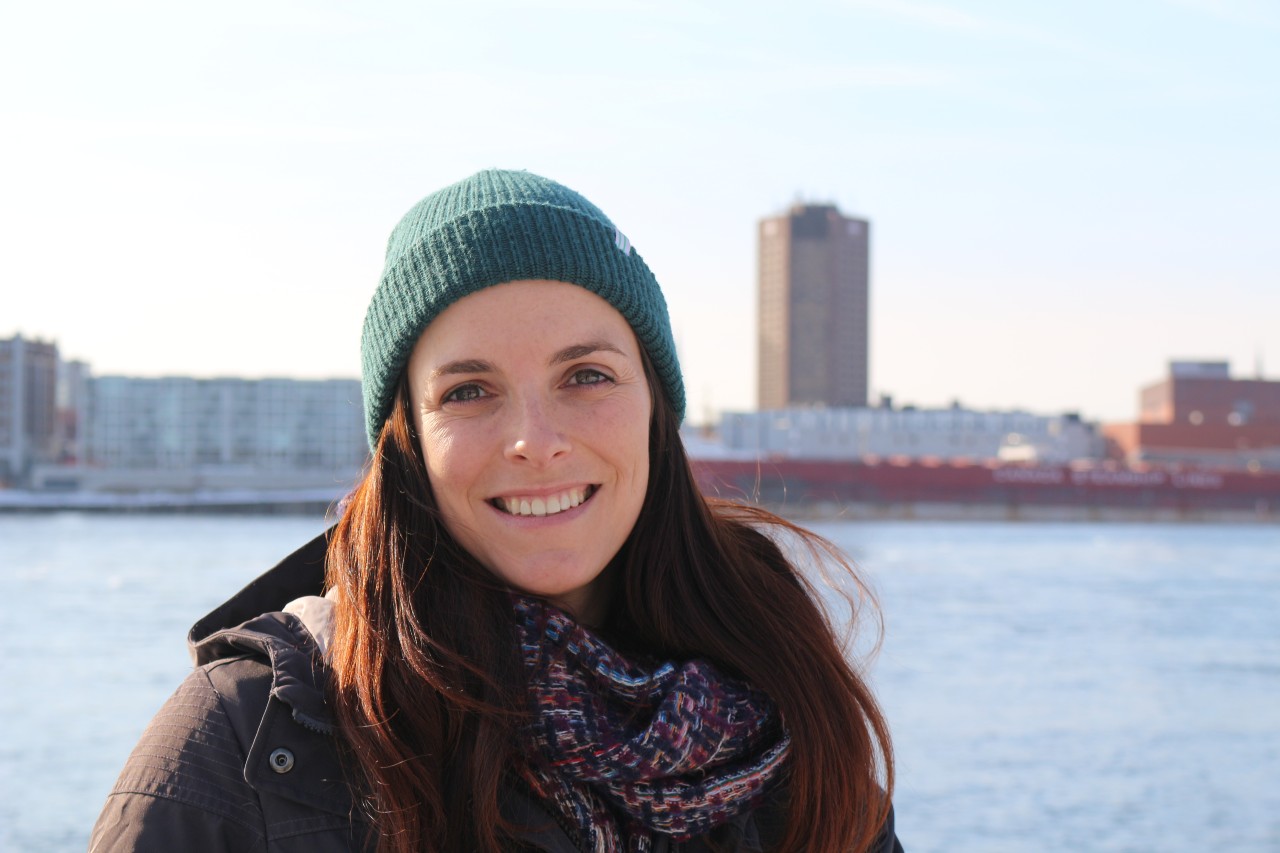 Photo: Montréal tour guide Amélie Rolland-Lamothe ©SarahMontpetit/Guidatour
What's in it for guides?
Now that we have a better idea of what guides do, and who they are, we could ask ourselves, why are guides so passionate about what they do? For a lot of them, it seems to have a lot to do with making connections with people. Let's hear from Montréal city tour guides Caroline Prenovost and Elise Cayouette.
"Visitor contact is what I love most: their playfulness, curiosity, and the occasional sharing of their own stories of Montréal all help me appreciate our city even more. Sharing back and forth with visitors is always rewarding!"
"Guiding is a combination of all the things I prefer! It allows me to meet people who come from the four corners of the globe and exchange with them. I am constantly learning new things and it gives me an opportunity to put into action my passion for history, gastronomy, and languages."
-Elise Cayouette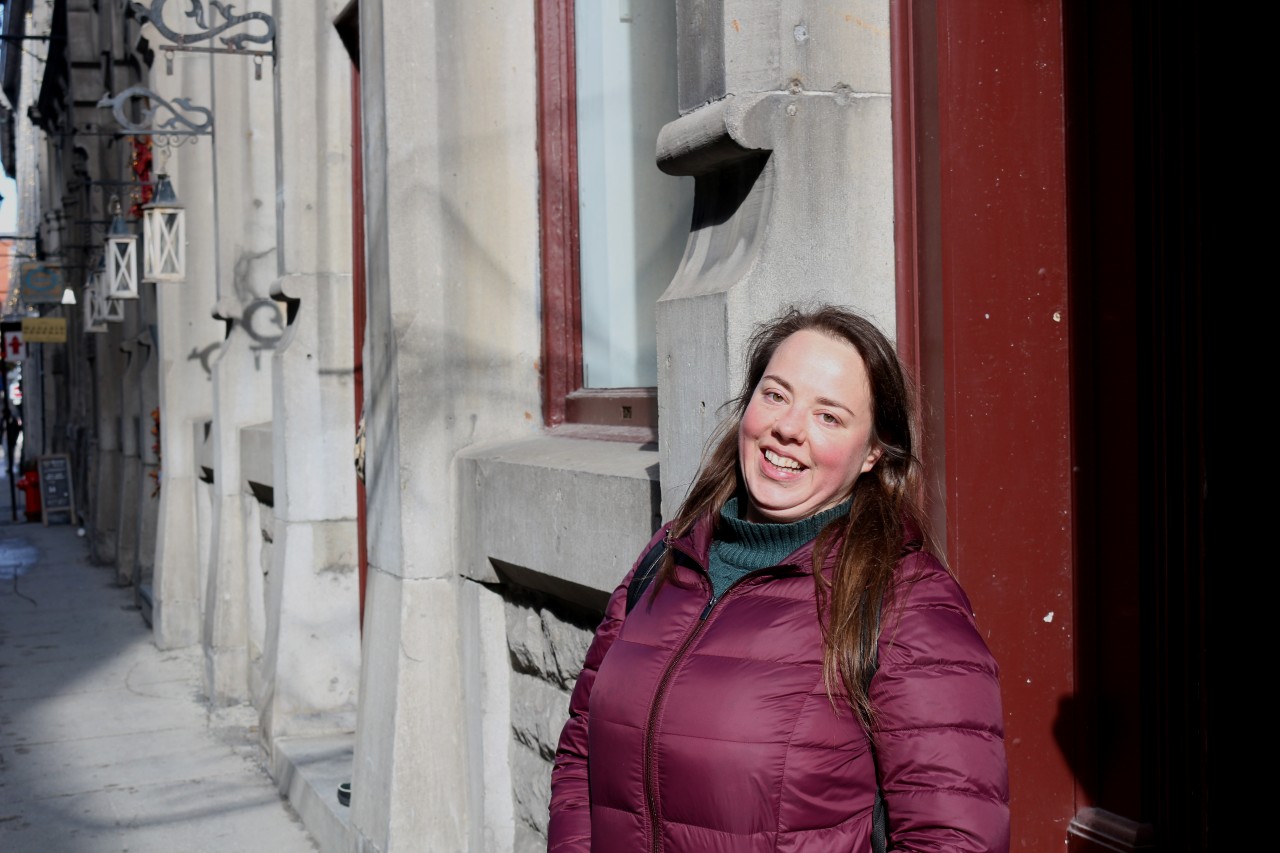 Photo: Montréal tour guide Elise Cayouette ©SarahMontpetit/Guidatour
A few advantages of being a tour guide
Another plus for guides is having control over their schedule. Most Montréal guides are free-lancers, and as such accept contracts for the days they want, based on their strengths and interests. The variety of contract types is also a source of stimulation and satisfaction.
"During the high season, on the same day, you can have a bus tour in the morning, a walking tour in the afternoon, and a guided transfer for convention goers from their hotel to the restaurant in the evening. The next day might be three consecutive walking tours of Old Montréal."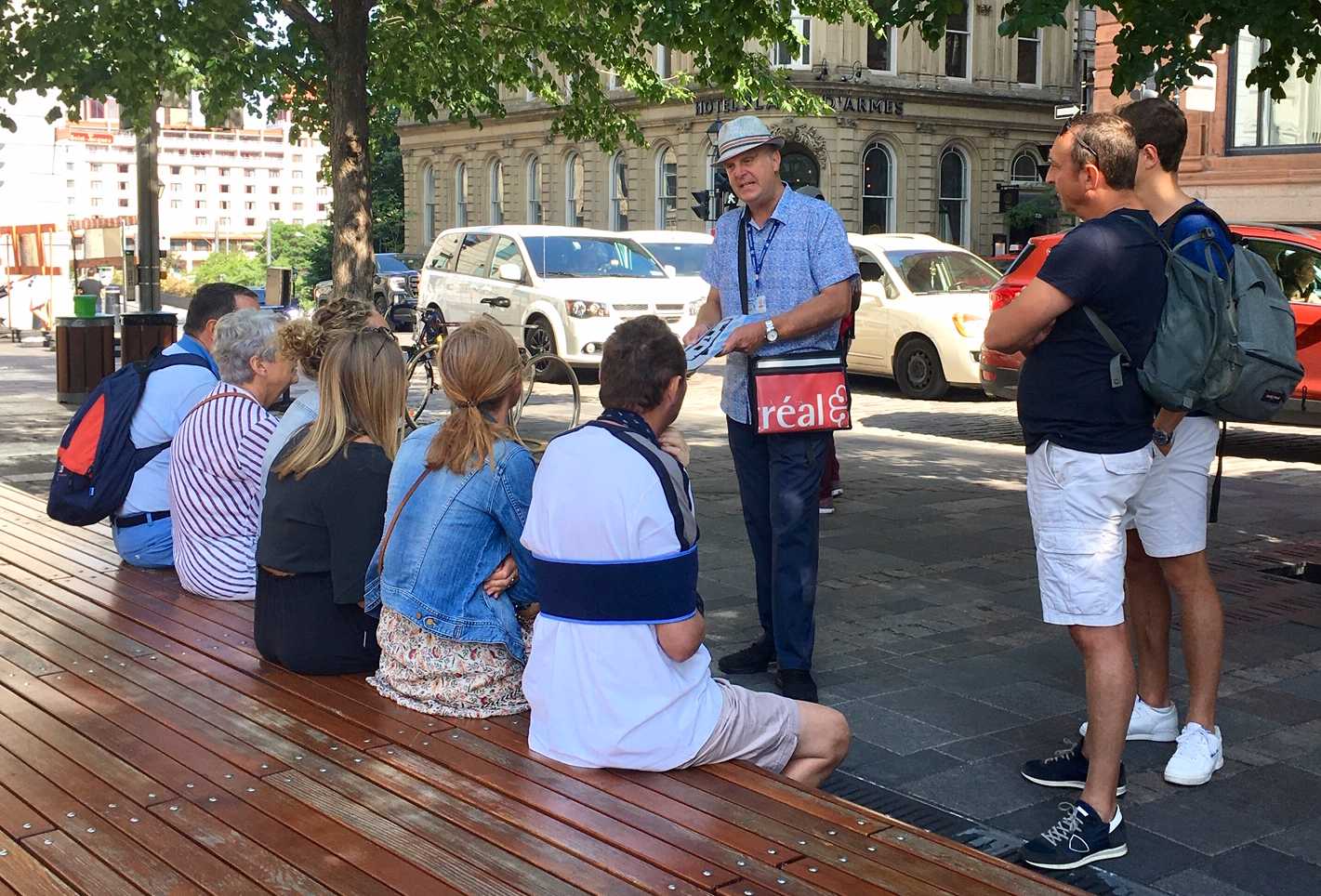 Photo: Montréal tour guide Pierre Tomaszewski leading a walking tour of Old Montréal ©Guidatour
A rewarding profession
Guiding is certainly a rewarding profession for those who are suited to it. Ideally it allows for a connection between people who are curious about the city, in a setting that is light and fun. Andréanne Roy-Plourde, a Montréal city tour guide who is also a primary school teacher, sums it up nicely:
"I love the flexible schedule, working outdoors, meeting new people, developing friendships with other guides, always learning something new. I enjoy teaching the history of Montréal to people who have chosen to be there, without the need for report cards or having to call parents!"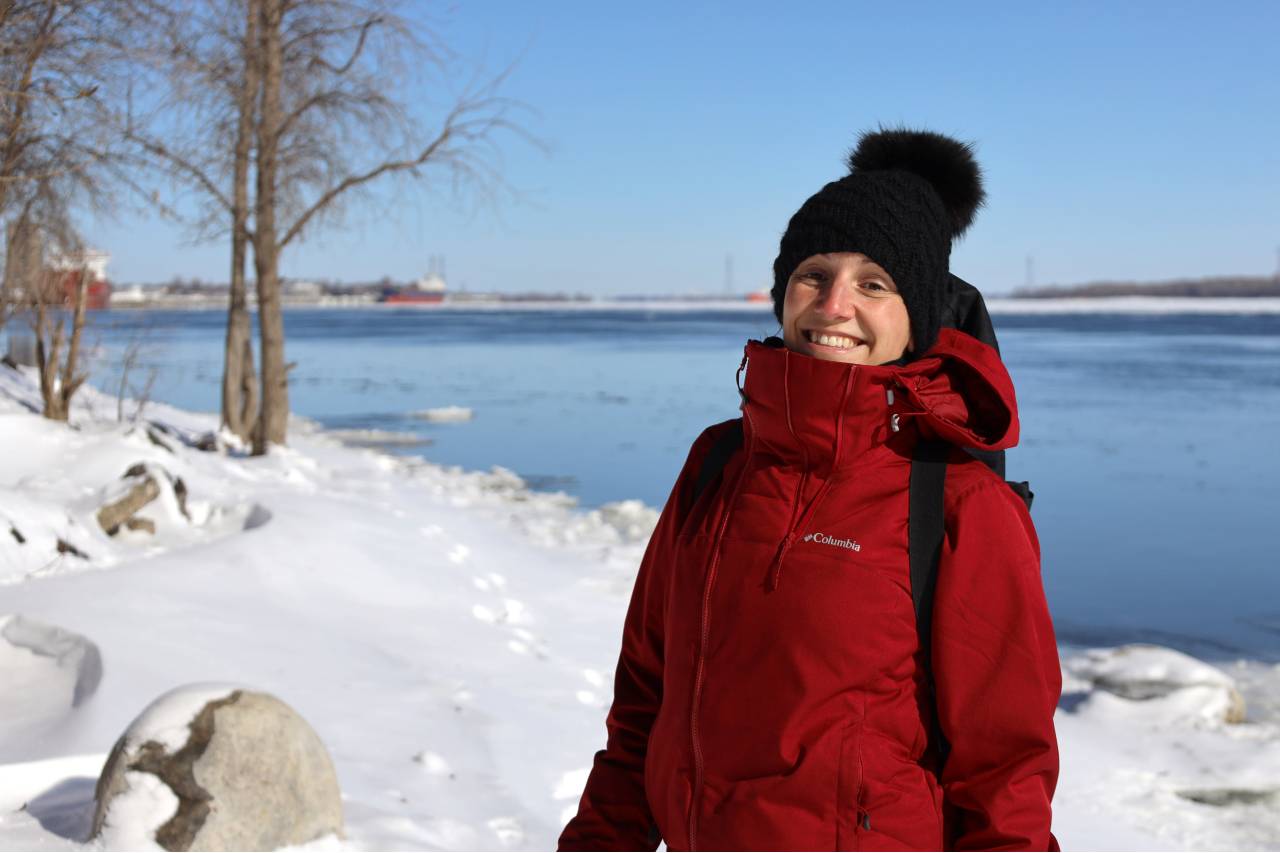 Photo: Montréal tour guide Andréanne Roy-Plourde ©SarahMontpetit/Guidatour
So what are you waiting for? Book a guided tour with Guidatour!
Guidatour works with well over 100 rock star professional guides that each have their own unique combination of super powers. Whether you want to walk, run, bike or drive, or whether you want to tour Montréal with a busload of your closest friends, with your family or colleagues, we have the guide for you. From Old Montréal to Hochelaga-Maisonneuve, from murals to the underground pedestrian network, if you have a tour request, chances are we've got you covered.
Guidatour would like to thank the Montréal tour guides who have generously agreed to answer questions about their profession.