Walking tours are back as of April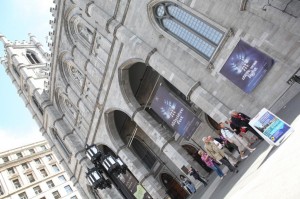 To highlight Montréal's 375th anniversary, Guidatour is extending its walking tour season. Visit Old Montréal in the company of a professional guide, now on several days from April 1st until November 30th 2017. Another daily departure was even added at 4 p.m. during the high season. Great news for travelers both here and abroad!
The Old Montréal East and Old Montréal West visits are available upon reservation as of this Saturday April 1st. The Old Montréal VIP will also be available from May. All tours include a visit of the Notre‑Dame Basilica interior and showcase the city's 375 years of history.
Louise Hébert, President of Guidatour, enthuses about this year's edition: "It is a year of celebration and our tours are not to be missed for those who want to learn more about the birthplace of the city, a place teeming with four centuries of history. Whether you're a tourist or a Montrealer, you can expect to experience a special moment of discovery, thanks to the insight and enthusiasm of your guide. You will definitely see Old Montréal in a whole new perspective."