A longer season for 20 years of walking tours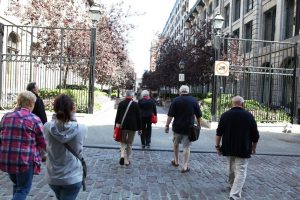 Guidatour celebrates 20 years of walking tours in Old Montréal in the company of professional guides by offering a longer season 2014, great news for travelers here and elsewhere! In addition to the regular season from mid-May to mid-October, the Old Montréal East walking tour is also available off season, upon reservation, every Saturday at 11 am, from April 5 to May 10 and from October 18 to November 29.
In addition to these new dates on the schedule, the visits of Old Montréal East (at 11 a.m. in French and English), Old Montréal West (at 1:30 p.m. in English and, upon reservation, in French) and Downtown Express (at 9:30 a.m. in French and English) will be back for the regular season. Visitors can then choose to follow one, two or three of these walking tours, on Saturdays and Sundays from May 17 to June 15 and daily from June 21 to October 12.