Free tour of Downtown Montréal and the underground city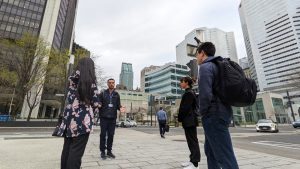 See downtown Montréal in a new light with a free guided tour you won't want to miss
Guidatour invites people of Montréal and tourists alike to experience or reexperience the city's downtown in a fun and unexpected way with the Downtown Montréal Above and Beneath free walking tour.  The activity is presented from June to September, thanks to the support of Montréal centre-ville. With a professional guide, (re)discover city centre from a multitude of perspectives, including its authentic, lively, and creative sides. It's more than just a business or tourist destination! 
Here's what to expect on the free downtown tour
This 2-hour walking tour is open to the public (reservations are mandatory) and will lead participants through the streets of downtown Montréal as well as below ground through the RÉSO (Underground Pedestrian Network), the famous "underground city". They will explore the upper and lower levels of downtown, which  together make up the heart of Montréal and one of the most vibrant and cosmopolitan areas of the city.
Guidatour partners with Montréal centre-ville
The walking tour starts from the tourist information bureau (Infotouriste Centre) on Peel Street and ends near Time Out Market Montréal on St. Catherine Street West. It features historical and architectural content, anecdotes, all delivered in a light-hearted tone by a passionate guide.
Guidatour's President, Angèle Vermette, says she is delighted with the project which is made possible thanks to the support of Montréal centre-ville: "The entire Guidatour team is thrilled with the opportunity to partner with Montréal centre-ville, which allows us to offer a tour that is not only free, but also of high quality, enriching and enjoyable for everyone. We hope that Montrealers will make the most of this inclusive activity to explore the city centre and play tourist in their own city. Whether you're on your own, with friends, with your special someone, with family or with colleagues, it's a great opportunity to learn new things and have fun."
How to reserve your tickets for the walking tour
Tours in English are offered on Saturdays at 2:00 p.m. Tours in French are available on Thursdays at 4:30 p.m. and on Saturdays and Sundays at 2:00 p.m. Online reservations are required and spaces are limited.
Guidatour offers a variety of other activities as part of its regular programming, including tours of Old Montréal, mural tours, and the activities of the Montréal Ghosts.