Celebrate Halloween in Old Montréal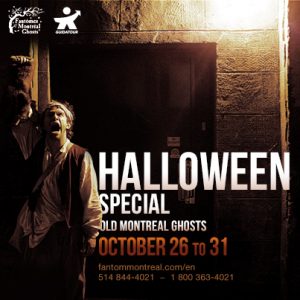 Come meet Montréal's Ghosts this Halloween from October 26 to 31 at 8:30 p.m. Choose between three thrilling activities for a memorable experience that will reveal you the grim past of Old Montréal.
Reserve your spots early as places are limited!
2017 Programming
On October 26, led by your professional storyteller, participe in a chilling Ghost Walk. On October 27 and 28, join a Ghost Hunt and find the criminals and charlatans waiting for you in the dark corners of the historical district. On October 29, 30 and 31, during a Ghost Walk & Dark Encounters, hear the most gruesome tales and legends about Old Montréal and meet two unsettling ghosts along the way.
A Must-Attend Event
According to Louise Hébert of Fantômes Montréal Ghosts, this upcoming Halloween Special is not to be missed. "Whether costumed or not, people turn out in large numbers year after year and we feel this 2017 edition will be no exception. It is the event you need to attend this Halloween if you want to spend an unforgettable night in a particularly festive atmosphere", enthuses Louise Hébert.
During the 90-minute activities, participants are separated into groups of about twenty people and hear the stories of different ghosts, brought to life by professional actors. "Since the stories are inspired by authentic facts and events, it is guaranteed that participants will get goose bumps", adds Louise Hébert.