Bill Brown Award's Winner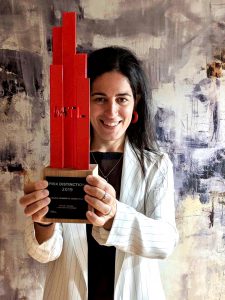 Guidatour's President Angèle Vermette was awarded the Bill Brown award for young leaders of the tourism industry at the Prix Distinction 2019, hosted by Tourism Montréal and presented by Air Canada. The ceremony took place on March 21 at the Montréal Museum of Fine Arts.
The Bill Brown award is granted to a key actor of the tourism industry aged 35 years old or under and who oversees a work team. He or she also needs to possess all the necessary assets to become an exceptional leader within the industry.
Mrs. Vermette wished to highlight the great work of her predecessor Louise Hébert as well her current team's during her acceptance speech: "Like Louise always said, Guidatour was never a one-woman show. I have the privilege of being surrounded by 7 wonderful colleagues, a hundred professional guides who have a real passion for Montréal and 25 excellent actors for Montréal Ghosts".
The other recipients of the Prix Distinction 2019 are: