All You Ever Wanted to Know About Saint Patrick's Day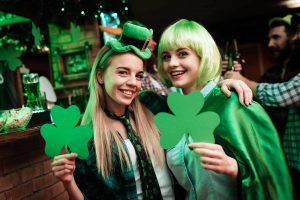 Unsurprisingly, Saint Patrick's Day is all about Saint Patrick, Ireland's most famous patron saint who is largely credited with having brought Christianity to the Emerald Isle. His feast day is March 17, also thought to be the anniversary of his death.
As with most people who lived around the 4th or 5th century, it's a bit tricky to establish an exact biography. He claims to have been kidnapped by Irish raiders, taken from his native Britain at 16, to tend sheep in Ireland as a slave. After six years, he heard a voice telling him his ship was ready. He escaped, went back to Britain, studied to become a priest, and eventually returned to Ireland where he became a bishop, baptizing thousands and generally conducting missionary work.
Somewhere along the way he may have been imprisoned in France for 60 days, and at another time made to stand trial, possibly for financial impropriety. If one is to believe his 7th century biographer, Muirchú, Patrick also disposed of two pagan magicians on the hill of Tara, the first by crushing his skull against a rock, and the other by setting him on fire. But we're just going to assume that last bit seems a little unlikely, which just goes to show you can't believe everything you read.
A crosier, a shamrock, and snakes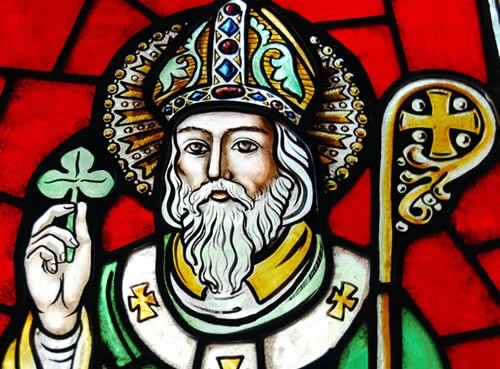 Whatever the real story of Saint Patrick's life, today, his image is pretty much set in stone. He is most often depicted holding a crosier — a bishop's staff — in one hand, a shamrock in the other. He is usually accompanied by snakes.
The crosier is fairly easy to explain, since Saint Patrick is known as the founding bishop of the Irish Church. He is also closely associated with the shamrock, having used it to illustrate the Holy Trinity during his efforts to convert the Irish to Christianity. Since then, the shamrock, from the Irish word seamróg meaning "little clover", has become one of the most well-recognized symbols of Ireland and of the Irish diaspora.
As for the snakes, legend has it that Saint Patrick banished them from Ireland. Biologists agree this did not happen, since there is no evidence there ever were any snakes in Ireland after the last ice age. Maybe this explains why we don't see very many snakes at Saint Patrick's Day celebrations. 
Saint Patrick's Day Symbols
So shamrocks are in, snakes are out. What other symbols are associated with Saint Patrick's Day? Leprechauns, of course. These little bearded men with their rainbows and pots of gold were initially made popular through Irish folktales, but have since developed into a bit of a cliché. And if you notice, they all wear green!
In fact, the colour green seems to be the strongest symbol of all. Everything is green on Saint Patrick's Day: green beer, green shamrock-shaped glasses, green leprechaun hats… In Chicago they even dye their river green. Saint Patrick was originally associated with the colour blue, but now even he wears green. What happened?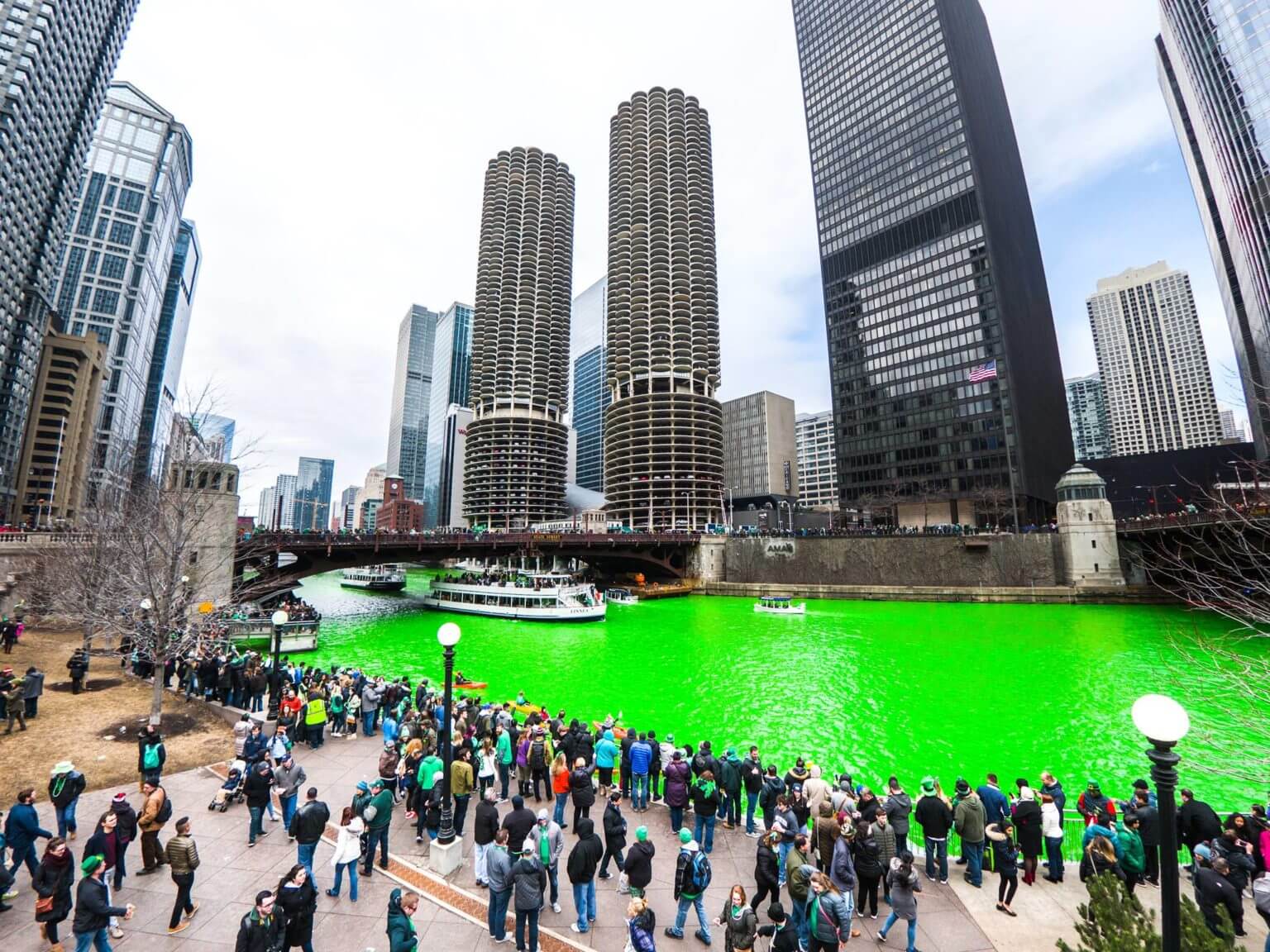 Photo: © Concierge Preferred, 2022
It started when a green flag was used by Irish Catholics in the rebellion of 1641, and reinforced when the Society of United Irishmen wore green in the rebellion of 1798. By the 19th century the colour green was firmly associated with the Irish Catholics, and in turn with their patron saint and his feast day celebrations. In contrast, Irish Protestants adopted orange as their colour, because of William of Orange's victory over the Catholics at the end of the 17th century. 
While the two sides often clashed, even prompting Toronto to ban the Saint Patrick's Day parade for over 100 years in 1878, today you are likely to see the Irish flag at the parades, symbolizing green for the catholics, orange for the protestants, and white for the lasting peace between them. 

Photo: © Nicolaus Czarnecki, Boston Herald
How to celebrate Saint Patrick's Day
Speaking of parades… they have not always been a feature of Saint Patrick's Day celebrations. For well over a thousand years, the Irish observed Saint Patrick's feast day as a religious holiday. In fact, because of this, they weren't even able to go to the pub! No parades, no pubs. This is not the holiday we know and love. 
The giant parties we know today originated in North America. Once Irish immigration really took off — it is estimated that between 4 and 5 million Irish permanently crossed the Atlantic between the 1820s and the 1930s — parades allowed the new arrivals to proudly show off their roots and celebrate their homeland. And if there was a beer or a wee dram of whiskey to be had, all the better. 

Photo: © Eva Blue, Tourisme Montréal
Is there a Saint Patrick's parade this year in Montréal?
Good news! The United Irish Societies of Montreal has recently announced that the Saint Patrick parade is a go for 2022. It will be held on Sunday morning, March 20th at 9:30 a.m. and will run mostly along Sainte-Catherine West Street between The Bay and the old Forum. It will be a little smaller than normal, but certainly as much fun!
By March 12, most restrictions will have been lifted in Québec, so you should also be able to visit your local Irish pub with friends. The first three that come to mind are Hurley's, Le Vieux Dublin, and McKibbin's (the holy trinity of downtown Irish pubs). But there are a great number of others Irish pubs in Montréal that are definitely worth a visit, for example McCarold's on Côte-des-Neiges, Patrick's Pub Irlandais in the Quartier Latin, and Le Trèfle in Verdun to name a few.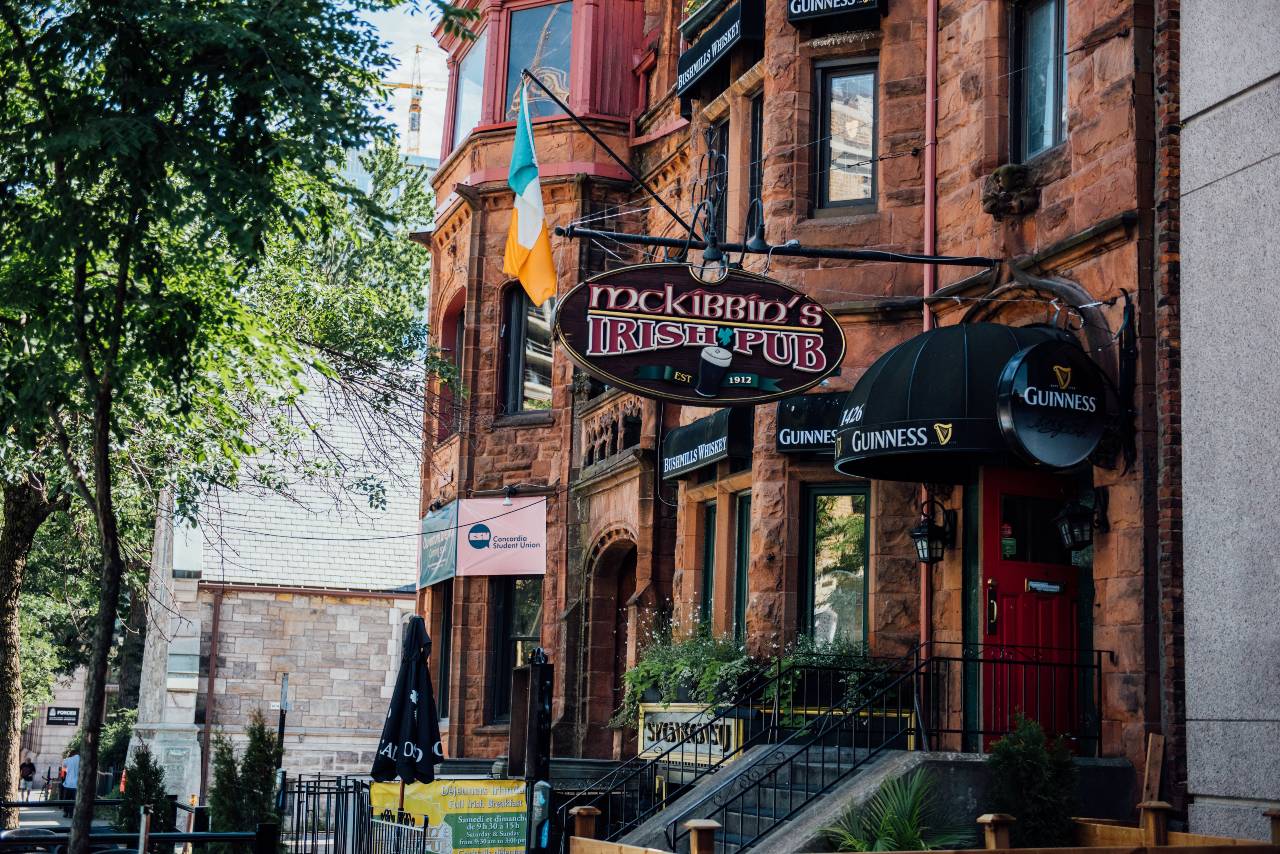 Photo: © Alison Slattery Photography
You could also try One Punch Mickey's, Montréal's newest offering, opening on Saint Patrick's Day in Rosemont—La Petite-Patrie, or visit another classic establishment, McLean's, to catch Ireland's rugby team in action in the Six Nations Championship on either Saturday the 12th or Saturday the 19th. 
A guided tour to honour the Irish in Montréal
Finally, we also humbly suggest that one of the best ways to honour the Irish in Montreal would be to follow a guided tour of Griffintown and find out more about this community's contributions to our fair city. And why not, let it be a beer tour at the same time! Just in time for March, we are relaunching our Griffintown: Beer and the Industrial Revolution tour as well as the East of the Main: Beer and murals tour. They are currently offered in English as private tours by reservation only, so grab a few friends and book your tour today. Sláinte!