The Christmas Secrets Tour is Back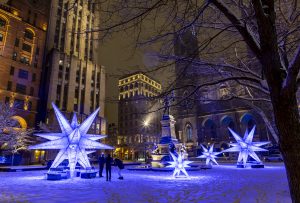 To celebrate the holidays in the city, Guidatour presents its walking tour Christmas Secrets of Old Montréal every Saturday this December, as well as Friday, December 17th, 24th, and 31st. Succumb to the winter charm of the historic district and learn the secrets of Christmases past.
Enjoy this charming guided tour of Old Montréal
Led by a professional guide, this 90-minute circuit winds its way through Old Montréal, from the old Royal Bank building on Saint-Jacques Street to Bonsecours Market. It provides an interesting historical overview of the city's birthplace, and of course, it touches upon Christmas themes such as the customs and traditions during the New France period as well as other long-established traditions from our culture. In short, this activity allows you to learn, to be active, to have fun, and to enjoy the magic of the holidays.
A visit to get your fill of discoveries and wonder
According to Angèle Vermette, president of Guidatour, the Christmas Secrets of Old Montréal walking tour is indeed an enriching experience. It allows you to appreciate the beauty of the historic district at this time of year. "One just has to take advantage of it because it really is a magical time in Old Montréal," Vermette says. "The holiday lights have all been revamped in the last couple of years and they're absolutely spectacular. Above all, the tour is filled with tons of historical and cultural information. So whether you're a Montrealer or just passing through, it's definitely a great way to get your fill of discoveries and wonder." 
Practical Information about the tour
Departures in English at 6:15 p.m. and in French at 4:00 p.m. Reservations must be made online or over the phone as places are limited. Rates (taxes included): $21 per adult, $14 per child aged 3 to 17, and free for those under 2. Guidatour also offers private tours for the general public or corporate groups at the date and time of your choosing, ideally after 4:00 p.m. to to take full advantage of the holiday lights. You can also purchase gift certificates.
---
Photo: © Eva Blue, Tourisme Montréal