Montréal and Holiday Traditions – Did you know?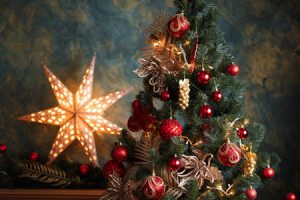 For many, the end of the calendar year is a busy time. Whether you observe Bodhi Day, Kwanzaa, Hannukah, one of the many Christian celebrations like Christmas, or whether you simply take part in certain popular culture traditions, it is perhaps above all a special time spent with friends and family.   
A Christmas Miracle in Ville-Marie
It was undoubtedly a special time for the French settlers in Ville-Marie that first Christmas of 1642. They had been living on the island for less than eight months when flood waters started rising just as they were preparing to celebrate the birth of Christ. What was the governor to do? Maisonneuve planted a cross at the edge of the water, prayed, and promised that should they be spared, he would carry a much heavier cross up to the top of Mount Royal in thanks. Well, ok, maybe not the very top of the mountain, but high enough.
As luck would have it, the waters miraculously receded! Twelve days later on the feast day of Epiphany, Maisonneuve faithfully carried a big wooden cross partway up Mount Royal. To this day, we are reminded of his actions by a big metal cross on top of the mountain inaugurated on Christmas Eve 1924. It serves to commemorate the events of the first Christmas in Montréal and the piousness of the settlers who founded the city as a Catholic mission. 
Credit: Pierre Jarry
The Star – A Powerful Symbol
Another powerful holiday symbol is the star, and in particular the star of Bethlehem. In Christian tradition, this brightest of stars guides "wise men from the East" all the way to Jesus so they can offer him some gold, frankincense, and myrrh, a celebration referred to as Epiphany. 
The Place d'Armes decorative stars are therefore back this year, making instagrammers across the city shiver with delight. But there's another, much more discreet, star on the square. Carved into a stone on the ground, this little star is part of an artwork called "Polaris en lumière". If you stand on the star and look to the turret of the New York Life Insurance building (that's the red stone building), you should be able to see the North Star just above. 
Because it is located almost exactly at the north celestial pole, from our point of view the North Star more or less stays in the same position while the other stars move around it. This in turn has made it incredibly useful to navigators for the last couple thousand years. It's also one of the brighter stars in the sky, and in a northern city like Montréal, we'll take all the light we can get!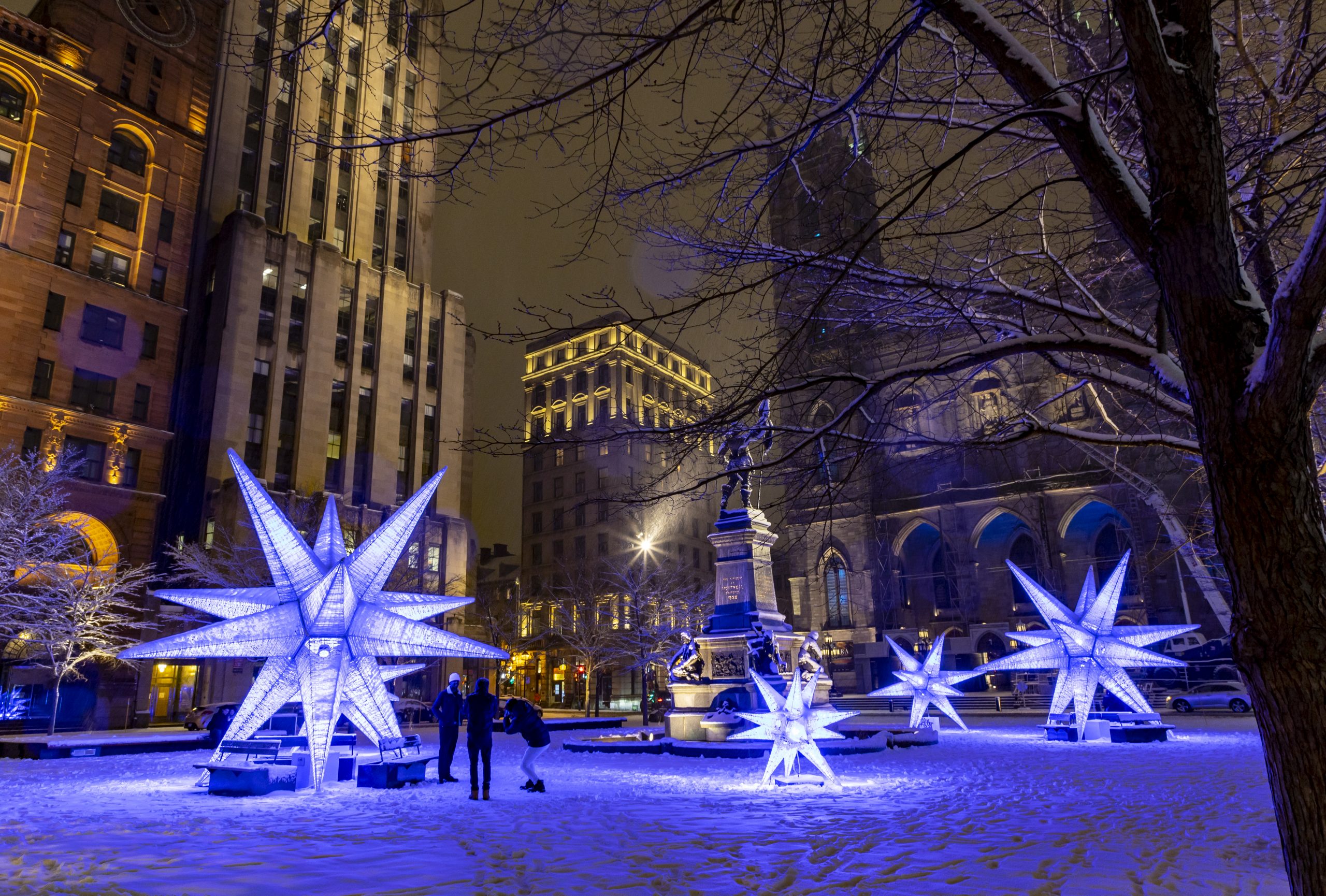 Credit: Eva Blue, Tourisme Montréal
From Symbol of Rebirth to Status Symbol 
Another place stars routinely find themselves during the holidays is at the top of Christmas trees. But like with many holiday traditions, the Christmas tree has a complex origin story. In fact, for thousands of years, pagan civilizations across the Northern Hemisphere would celebrate winter solstice by decorating their homes with evergreen trees. This was seen as a symbol of rebirth as the days slowly started to get longer and the promise of another summer was renewed. 
By the Middle Ages, Christians celebrated Adam and Eve on December 24th with a play recreating the Garden of Eden. In the centre of the stage was a "paradise tree", an evergreen tree decorated with apples. Even though these plays were eventually banned by the Church, the tradition persisted in parts of France and Germany. Many believe this is where the modern Christmas tree came from. 
By the time the first tree was decorated this side of the Atlantic Ocean in 1781, by Major General Friedrich Adolphus von Riedesel in Sorel, it was decorated with dried fruit and lit candles (hello fire hazard!). It was only by the 1930s however that French Canadians truly adopted the Christmas tree, once Christmas shifted away from being a purely religious celebration.
This drawing made by M. Schubert in 1966 depicts the first illuminate Christmas tree in Canada.
Today the Christmas tree has in some cases become a bit of a status symbol. One just has to think of New York's Rockafeller Center tree and the time Montréal tried to outdo it in 2016. The result was an 88-foot rail-thin tree that was laughed at around the world. On the other hand, it also sparked a healthy debate about the value of individuality and uniqueness at a time when people – and even trees – are pressured into conforming to idealized esthetic norms.
Credit: Ian Austen, New York Times
Maple Syrup to the Rescue
Of course, the holidays would never be complete without a bit of overeating. And while you will find many gingerbread cookies, yule logs, and apple pies on tables across North America, you will also find sugar pies, pouding chômeur, and grands-pères – all dishes that are more often than not made with maple syrup. In fact, pretty much any dessert can be mapled-up by substituting the granulated sugar in the recipe with maple syrup or maple sugar. 
As it turns out, substituting sugar with a maple syrup is exactly what they did in New France at the turn of the 18th century. Thanks to a group of Anishinabe women who shared their technical expertise with Agathe de Saint-Père, Agathe became the first to commercialise maple products, even sending samples to the king of France! At a time when shipments of cane sugar often failed to reach the colony, this sweetener became incredibly popular. Agathe tapped the maple trees on her seigneury in Repentigny and sold the resulting maple taffy and candies at the market square, a place we now call Place Royale. Our holiday feasts are forever grateful!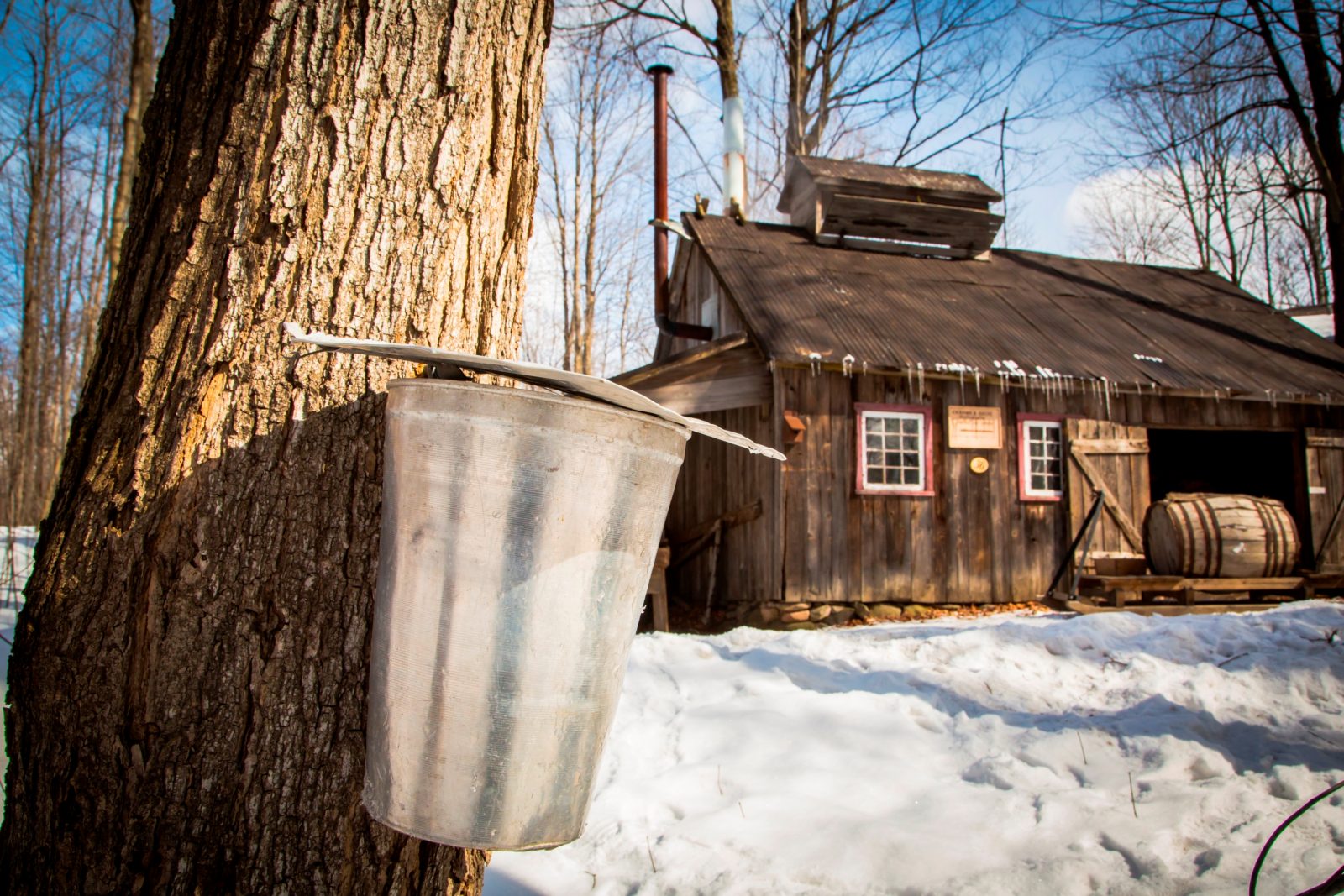 Credit: L'Express de Drummondville
The Holiday Season is Really About…
We wouldn't dare presume to know what the holidays are really all about. There must be as many answers as there are people! But we do hope you've enjoyed reading more about holiday events, traditions and symbols and how they relate to Montréal. If you're keen to learn even more, our Christmas Secrets of Old Montréal tour is back again this year on selected dates until New Year's Eve.
Have a very merry holiday season, and from the entire team at Guidatour and Montréal Ghosts, we wish you a happy, healthy 2022!