Our regular season of walking tours is here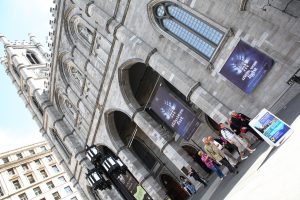 Our regular season of walking tours is here! Visits are available on Saturdays and Sundays from May 17 to June 15, and daily from June 21 to October 12, 2014. We offer you three guaranteed departures for: Downtown Express, Old Montréal East and Old Montréal West . In the company of professional guides, explore the past and present of downtown and Old Montréal with these walking tours filled with history, architecture and fascinating tales.
According to the President of Guidatour, Mrs. Louise Hébert, these tours allow visitors to see Montréal in a unique way: "We are the only ones to offer such a circuit of downtown and our tours of Old Montréal are now considered essential to learn more about the birthplace of the city, including a visit inside Notre-Dame Basilica at no additional cost. This year we celebrate 20 years of walking tours in the area, a proud accomplishment! ".
In short, whether you are a tourist or a Montrealer, these walking tours allow you to take the pulse of the city and see it from another angle, especially with a professional guide to help appreciate the city's rich diversity.