Montréal Murals We Love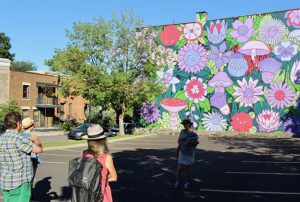 One of our professional guides shows you four of her favourite pieces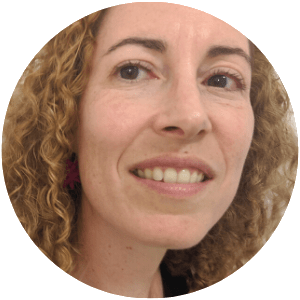 A special collaboration with Sarah Montpetit, professional Montréal tour guide
Montréal has long been considered a haven for artists – for novelists, musicians, painters, sculptors… These days, you could say one of the most happening art scenes in the city is the street art scene. Whether you call them street artists, muralists, "writers" or graffiti artists, one thing is for sure, they have some serious talent. Here are four of my favourite murals and a bit about the artists that created them.
Who Is Melissa Del Pinto?
Those who went to MURAL Festival in 2015 will no doubt remember Melissa Del Pinto. Her piece with the piercing look of the raven, elaborately framed and hanging on a hot pink background, became a Montréal favourite. The artist says she loves the crow because even though it's often thought of as a bad omen, she feels it's a bird that possesses "an incredible depth of emotion".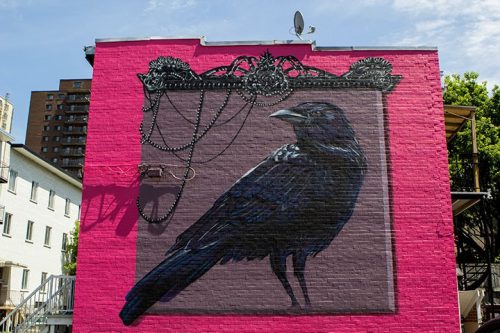 Del Pinto's love for both art and birds started when she was five years old. She eventually combined the two passions, allowing her career as a painter to truly blossom. Mostly her works are exhibited in art galleries or done in private spaces for corporate clients. However, we have been lucky enough to get a few works of public art created by Del Pinto in Montréal.
Homage to Norval Morrisseau by Melissa Del Pinto
The crow done for MURAL may now be gone, but there are a few more spots where you can get your "avian fix", like this one where you will find one of my favourite murals. Tucked away in an alley between Bishop and Crescent streets, behind the Montréal Museum of Fine Arts' Michal and Renata Hornstein Pavilion for Peace, you will find an homage to Norval Morrisseau. It was completed in 2016, commissioned by the museum and produced by MU.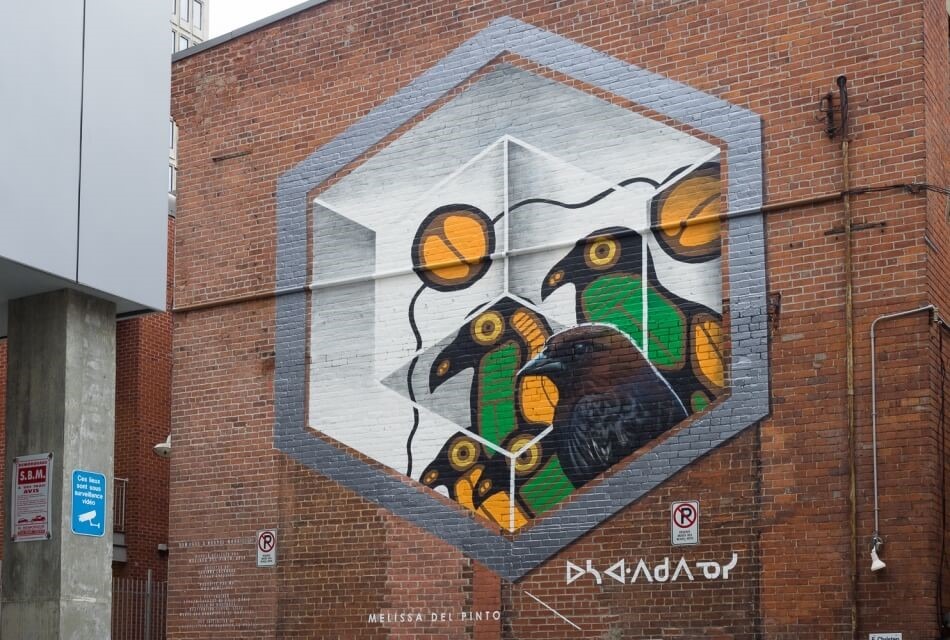 Morrisseau, of Anishnabe descent, was a pioneer First Nations artist who broke into the Canadian art scene in the 1960s. Also known under his Shaman name Copper Thunderbird (ᐅᓴᐘᐱᑯᐱᓀᓯ), he is considered the initiator of the Woodlands style, which portrays stylized animals, plants, and people in vibrant colours. Symbolism is at the core of this art, and illustrates the spiritual reality that inhabits and surrounds all living things.
What does Del Pinto's mural represent?
The official description of the mural doesn't say much beyond the fact that the hexagonal shape recalls the shape of the window from which museum goers can view the work. What kind of birds are they? Four of them are in a Woodlands style, presumably to pay tribute to Morrisseau. In front we have a photorealistic bird, which is what Del Pinto is known for. Perhaps it symbolizes a link between the two artists, who are both known to have a special relationship with birds?
Upon further scrutiny we might also notice that the crow is on one side of the window and the Morrisseau birds on the other. Around the Morrisseau birds we see communication lines with two split circles, which represent a contrast or duality of some sort. I also wonder if we're supposed to read anything into the incorporation of a window in this work, knowing that windows are a bird's worst enemy!
All these different elements really up the enjoyment factor for me when taking in this mural. It certainly can keep you guessing and coming back to look at it again and again.
There is another spot where you can view an original Del Pinto: Romeo's Museum, the urban art museum in the industrial staircase at the 5455 and 5445 de Gaspé in the Mile-End neighbourhood of Montréal. She's one of 24 artists in the museum, created in 2018 by the Montréal gin brand, Romeo's Gin.
Mono Sourcil's Strange Looking Characters
Another artist you can see at Romeo's Museum is Mono Sourcil. And she happens to be another favourite of mine.
Mono Sourcil, whose real name is Maxilie Martel, is instantly recognizable by her crowds of strange looking creatures. She seems to have a soft spot for monsters and robots, but basically all her creatures share a family resemblance… and many of them are sporting a monosourcil, which is French for unibrow!
The artist says she's inspired by the diverse crowds at gatherings in big cities. To me, the heterogenous gatherings in her art mirror the festivals, protests, and other large events in Montréal, a city where more than one-third of the population was born in another country, and where I would argue, there is a healthy dose of the "live and let live" mentality.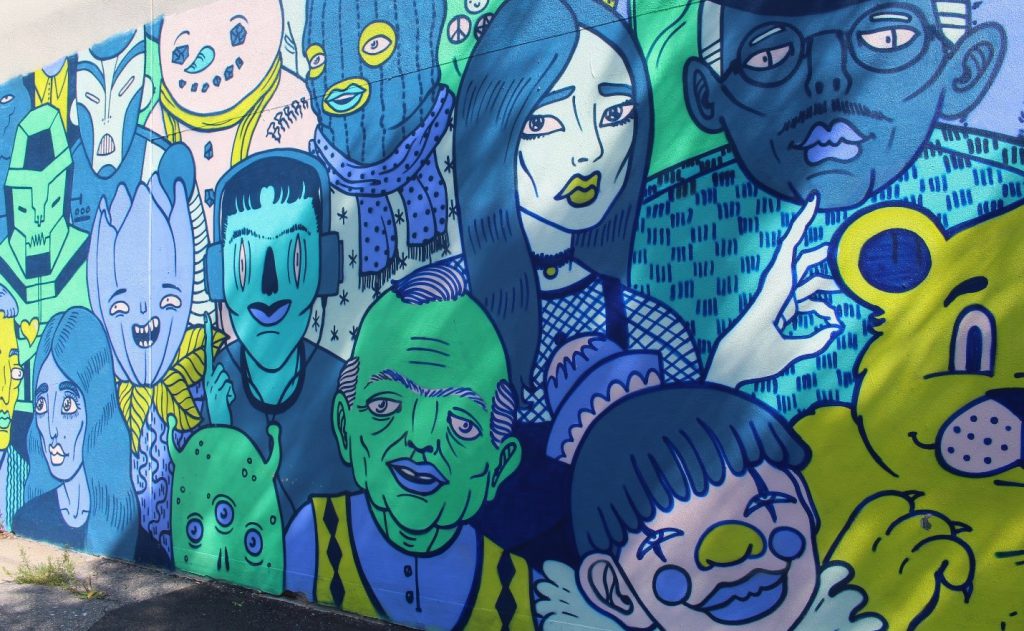 Mono Sourcil says she is trying to convey the notion of peaceful coexistence while celebrating the differences that make us who we are. How beautiful is that? At a time when many people seem to finally be understanding the value, beauty, and strength in diversity, her crowds exude acceptance of the Other, no matter what form that otherness takes… horns, petals, bolts and all.
Mono Sourcil's Secret Garden
While I love all her murals, I was especially blown away by her most recent effort in Montréal. You can find it at 4719 Berri Street, just outside the Saint-Joseph exit of Laurier metro. Completed as part of the Plateau Mont-Royal's Muralité program, it was finished in July 2020.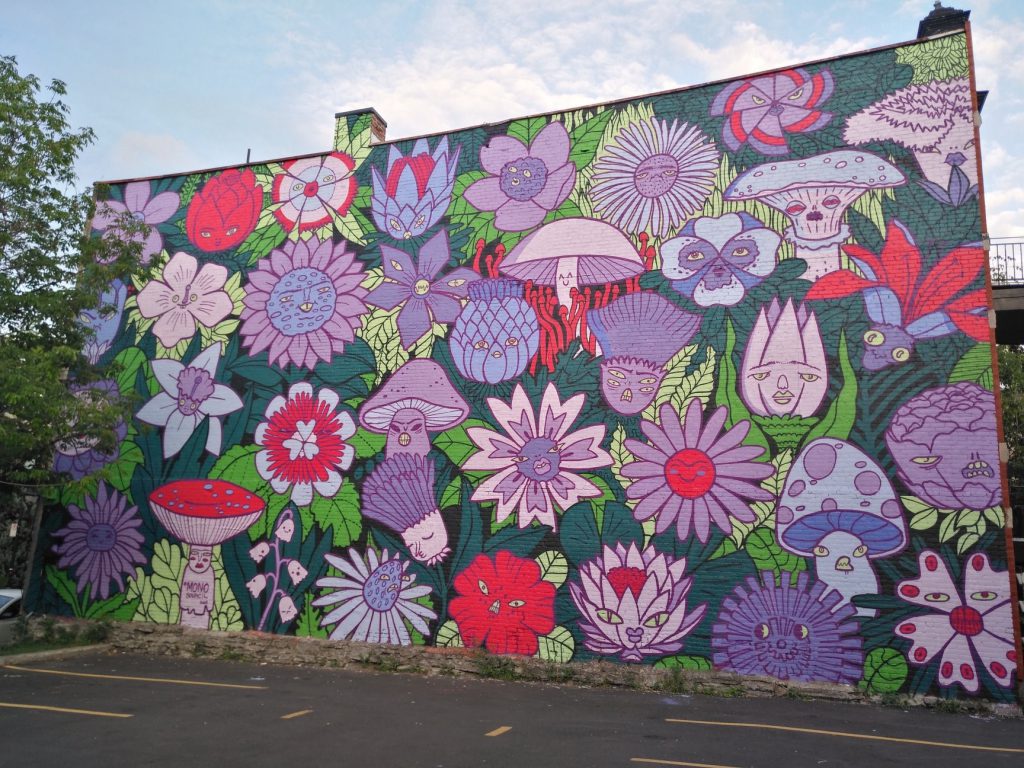 Here we're diving into the magical world of flowers. When I first saw it, I immediately thought of the 1951 animated classic and the song All in the Golden Afternoon, which reminds us that "you can learn a lot of things from the flowers". Alice in Wonderland was one of my absolute favourite movies as a kid, and the thought that different flowers would have different personalities – or indeed eyes and ears and noses – was a revelation to 7-year-old me. It seems I may have been onto something, since the hashtag aliceinwonderland appears on the artist's Instagram post of the mural.
The Awesome Psyche Mural by Insane 51
Not far away from Mono Sourcil's colourful flower patch you can find another fantastic piece. Well, in fact, you can find two fantastic pieces, one across from the other. They are both on Gilford St, between Saint-Denis and Rivard.
Most people will probably first notice the giant mural by Insane 51 for MURAL Festival, a self-described "Double Exposure 3D" artist. What does that mean? Well, double exposure in photography is when you have two images one on top of the other. When one image is in one colour (red), and the other image is in another colour (blue, or cyan), putting on a pair of 3D glasses means that each eye has one half of the visual information, resulting in a sort of 3D effect. You can also look at the work one filter at a time, in this case going back and forth between a beautiful girl (cyan image) and a cool skeleton (red image).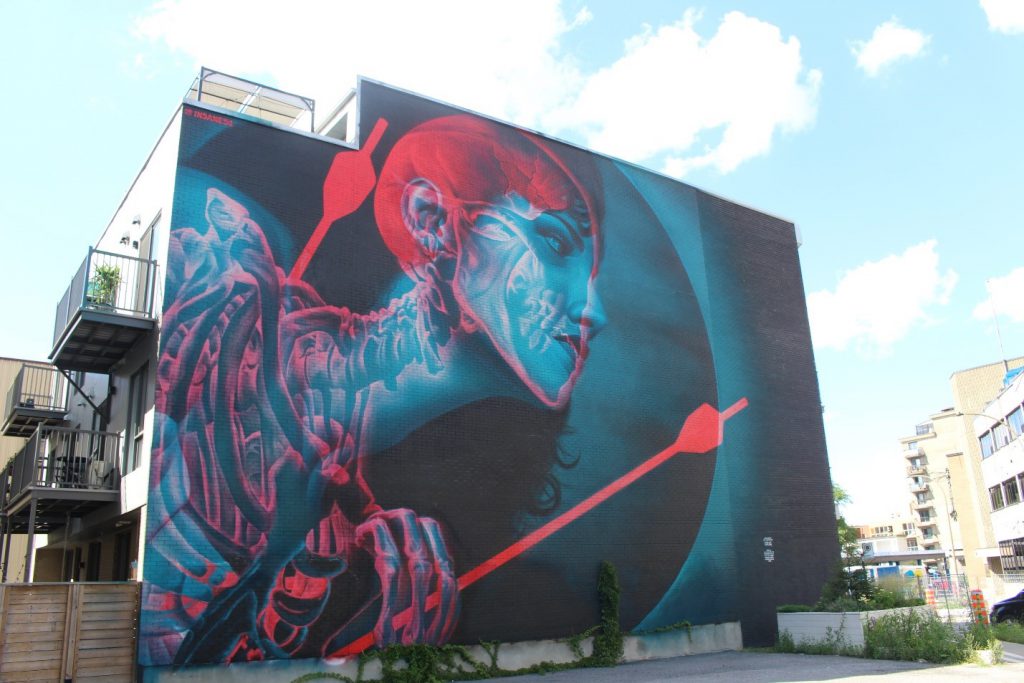 The mural this Greek artist left us in Montréal in 2019 is awesome no matter which way you look at it. It's also pretty interesting to know that it's half of a two-part series; our Montréal mural is the Psyche to Leicester, UK's Eros. Check this out if you're not familiar with the myth of Eros and Psyche and are in the mood for a solid Greek myth featuring among other things a jealous goddess, golden wool, and eternal life.
Celebrating Curly, Coily Hair with Graffiti Goddess, Maliciouz
Across the street from Psyche you will find a smaller piece by Montréal artist Maya Dorvilier, aka Maliciouz, who describes her art as afro, urban, and contemporary.
I particularly love this piece, which was sponsored by Salon Académie Nancy Falaise. You see, Nancy Falaise specializes in cutting, styling, and treating hair that is not straight and teaching people to care for their hair. As someone who hated her own curly hair for the longest time, and who once went four years without getting a haircut, I can't help but love any initiative that tells people to "embrace the curl". The world needs more images of beautiful non-straight hair!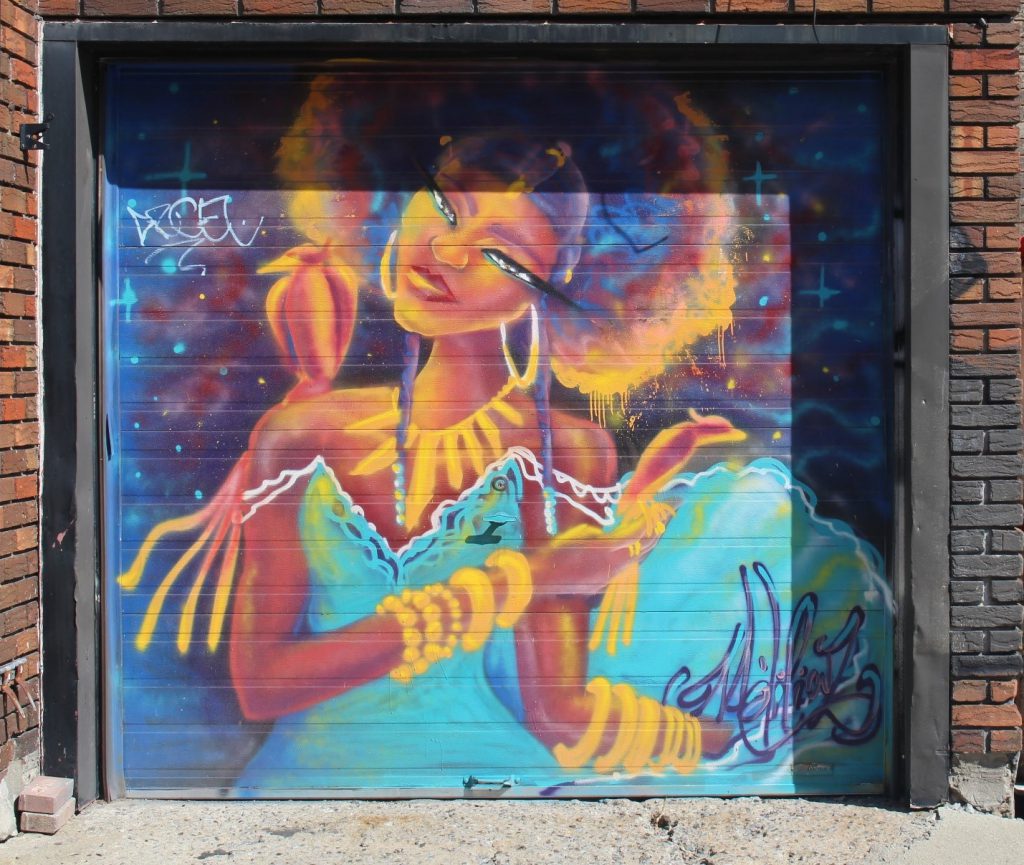 Maliciouz has done a lot of work in Montréal. She participates in the annual Under Pressure graffiti and urban culture festival. More recently, she exhibited at the Maison de la culture Claude-Léveillée in Villeray–Saint-Michel–Parc-Extension. Sometimes she does pieces at the legal wall on Rouen, like this piece below done for the festival Haïti en Folie. But you have to be quick if you want to see those! Since they get covered over by other artwork within a matter of days.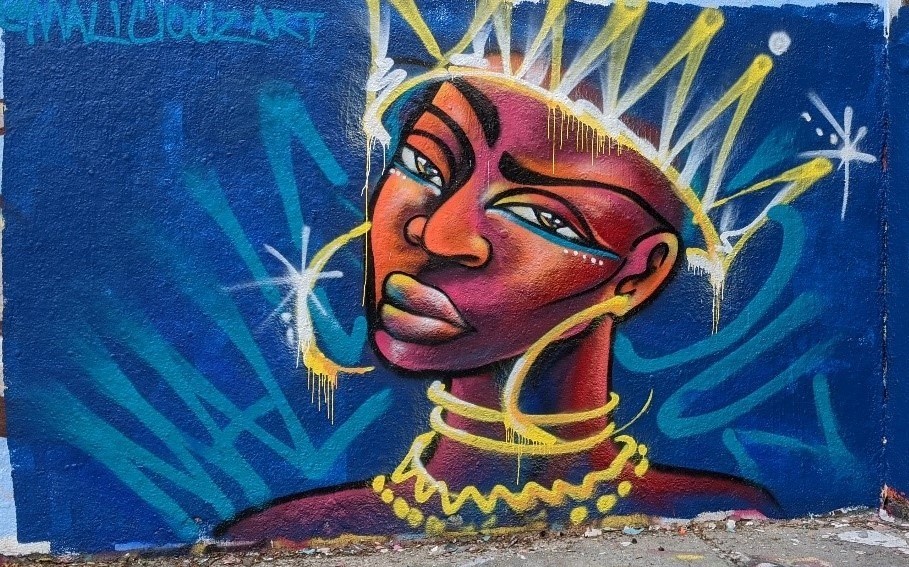 I really hope that Maliciouz gets a nice big wall in the coming year, somewhere where thousands of Montrealers and visitors could get to know her and get to see what she has to say.
Montréal's eclectic murals and street art
The murals above are just a sample of the works you can find in the streets Montréal. It's an eclectic mix of styles, works of public art created by people with diverse backgrounds. But each of these artists has contributed to making Montréal a happening place for street art – I can't wait to see what's next!
If you want to discover more Montréal murals and talented artists from here and abroad in the company of a professional guide, Guidatour offers the All About Montréal's Murals walking tour. I hope to see you there!
_ _ _
Photo credits
Crow  : © Daniel Esteban for MURAL Festival
Hommage à Norval Morrisseau : © Olivier Bousquet for MU
Secret Garden : © Arrondissement du Plateau-Mont-Royal