Guidatour wins the "Coup de coeur" at Ulysse Awards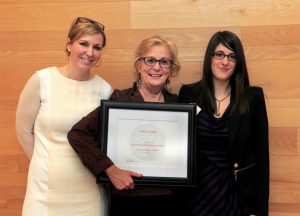 Guidatour / Fantômes Montréal has been awarded the very first Coup de coeur de l'industrie (the Industry's Favourite) at the Ulysse Awards' Gala 2015 (Gala des Prix Ulysse), handed over after a public voting held during the season launch of Tourism Montréal.
Guidatour's President, Mrs. Louise Hébert, proudly accepted the award on behalf of her team, accompanied by Élizabeth Tremblay, Guidatour's Communication Advisor. This award greatly complements Guidatour's 30th anniversary!
The Ulysse Awards, presented by Air Canada, were given on March 15th 2015 to 13 organizations and artisans from Montréal that have been innovative in their management strategies in 2014. This recognition evening and networking event for Montréal tourism businesses was held at the Maison symphonique de Montréal, in collaboration with the Orchestre symphonique de Montréal.