Christmas Secrets of Old Montréal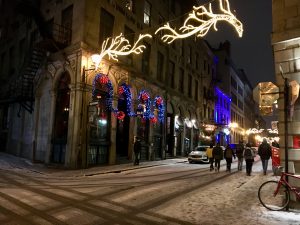 This Holiday season, Guidatour is offering its popular Christmas‑themed walking tours of Old Montréal. Discover the old city in a new light and get wrapped up in the holiday spirit on Saturdays December 7, 14, 21, and 28 along with Fridays December 20 and 27.
The visits offer a fascinating historical overview of the birthplace of the city and goes over themes related to Christmas, as explains Guidatour's President Angèle Vermette: "Visitors will learn about the customs of New‑France and will revisit some well-established traditions, discovering for example the origins of decorative trees and Christmas lights. Additionally, the tour will allow guests to become fully immersed into the Holiday spirit through a stop at the Santa Claus exhibit at Montréal's World Trade Center followed by many more stops to admire the decorations adorning Old Montréal's shops, museums and hotel lobbies."
Led by a professional guide, wander through the historic streets, from the Royal Bank Tower on Saint‑Jacques Street to Bonsecours Market, discovering the secrets of Christmases past. The tours last 90 minutes and take place at 6:15 p.m. in English and 4:00 p.m. in French (rates are $20.00 per person, taxes included / $13.00 per children aged 13 and under). Please note that private bookings are also possible for the date and time of your choice. Since places are limited, early reservations must be made online or by phoning 514 844‑4021.