Launching our longest walking tour season so far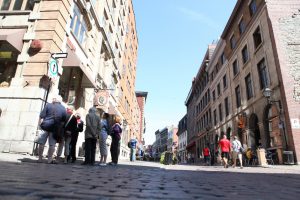 In 2018, Guidatour will offer more departures to explore Old Montréal on foot in the company of professional guides starting as soon as early in March until the end of December, making it its longest walking tours' season so far.
The Old Montréal East and Old Montréal West itineraries as well as the semi-private Old Montréal VIP visit (6 participants or less) take place at different set times between 10:30 a.m. and 4 p.m. Reservations are required during the low season and optional in high season. Guidatour also offers private visits year-round, upon reservation.
Guidatour's urban treks include the visit of the inside of Notre-Dame basilica and showcase the rich history of Old Montréal as well as its architectural diversity. They are a must-do for those who wish to learn more about the birthplace of the city and its evolution throughout time.
The president of Guidatour, Angèle Vermette, is very enthusiastic regarding the upcoming season and delighted by the ever‑growing popularity of the tours: "It is extraordinary that we receive more and more visitors from one year to the next. With this steady growth and a very strong ending to our last season, we took the decision to offer departures almost year-round for 2018. We want to give a maximum of tourists and Montréalers the chance to discover the best of Old Montréal by following our carefully built itineraries alongside our knowledgeable and very passionate guides."