Historical Characters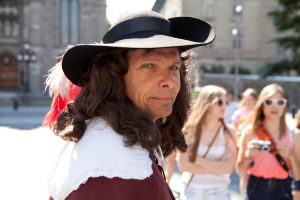 Some of our guides are especially trained for walking tours of Old Montréal playing historical or fictional characters. Our costumed guides can also bring an original touch to your special events. Let them take you back in time!
You want to surprise your guests? The actors from the Montréal Ghosts are also at your disposal to make your event a memorable one.
Old Montréal's Historical Figures
Visit Old Montréal on foot in the company of some historical figures who have left their mark on the history of the city such as:
Paul Chomedey Sieur de Maisonneuve: Famous gentlemen and French officer known as the founder of Ville-Marie.
Jeanne Mance: Founder of Hôtel-Dieu, the first hospital in the colony.
Marguerite Bourgeoys: Now Saint, first teacher in Ville-Marie and I founded the Congregation of Notre-Dame.
Julie Papineau: Wife of Louis-Joseph Papineau, leader of the Patriots.
Jacques Viger: Montréal's first mayor.
Catherine Desenne: A "fille du Roy" (King's Daughter) who arrived in New France at the age of 21.
Rose McFly: A woman of high society, the real "Lady" of the 19th century.
Théophile Lalumière: a lamplighter -a great job which has disappeared with the advent of electricity – born in the early 19th century.
These characters will reveal surprising details about their personal lives and our city's past.
Practical Information & Reservation
Schedule: year, day and time of your choice, according to availability.
Maximum recommended: 12 to 15 people per guide.
2021 Rate: on an indicative basis, the flat rate is $200 (including tax) for a 2-hours visit with an historical character (+ $60 per additional hour). Gratuity at your discretion.
Contact us for more information or to reserve this tour.
Entertainment for events
Book the services of our characters to:
Host scavenger hunts, theme nights or conferences;
Greet guests at galas, cocktail parties, product launches or awards;
Accompany journalists and VIP guests.
Practical Information & Reservation
2021 Rate: Minimum $260 (including taxes) for a service that goes up to 3 hrs (+ $60 per additional hour).
Contact us for more information orto book this tour.