Religious Heritage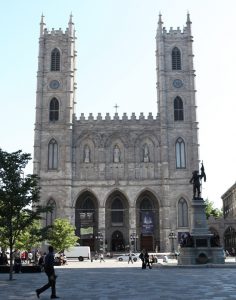 The Must-sees
Opt for a classic tour including:
Notre-Dame Basilica;
Saint Joseph's Oratory;
Mary Queen of the World Cathedral, a replica one third the size of Saint Peter's Basilica in Rome.
Off the beaten paths
Here are a few suggestions of visits we can also organize for you:
The Church of the Gesù, with a trompe-l'oeil décor inspired by its Roman namesake.
The Saint Patrick's Basilica, built by Montréal's Irish community, with a seductively elegant interior.
Notre-Dame-de-Bon-Secours Chapel, founded by Saint Marguerite Bourgeoys whose remains are located there today.
Saint-Léon Church in Westmount, with its famous stained-glass windows, the work of master glazier Guido Nincheri.
Visitation Church at Sault-au-Récollet, the oldest catholic church in Montréal.
Practical Information & Reservation
We can customize the duration, the circuit and the content of the tour at any time, according to your needs and interests. Contact us for more information or to book a tour.
Schedule: year-round, day and time of your choice (according to availability).
Suggested length: 4 hrs including the visit of 3 places of worship.
2021 Rate: $325 (including taxes) for the private guide service of 4 hrs (+ donations or entrance fees). Gratuity at your discretion.
Transportation not included. The guide can conduct the visit in your vehicle.
Need a vehicle? We can help you!
_ _ _
Photo Credit 1: © André Charron