Old Montréal East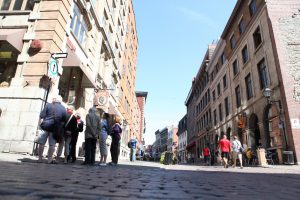 Off Season (reservation mandatory):
April & November: Saturdays and Sundays.
During Season:
May: Fridays, Saturdays and Sundays.
June to October: Daily.
December: Saturdays (English only).
Private tours available year-round.
Departure 
At 11:00 a.m.
Extra departure at 4:00 p.m. from June to October (in English only)
In front of the Boutique du parvis of Notre-Dame Basilica
110, Notre-Dame West Street
(Metro Station: Place d'Armes)
Duration
90 minutes
Include admission fees to Notre-Dame Basilica and a 50% discount on admission to Pointe-à-Callière Museum.
$25 / adult
$23 / student & senior (65 years and over)
$14 / child (6-17 years)
Combination of tours
Combine our two regular visits of Old Montréal to see both East side and West side of the historical district for a more favourable price when purchasing them at the same time (you can then follow the tours on the same day or on different dates):
Entire Old Montréal (East + West):
$44 / adult
$37 / student & senior (65 years and over)
$25 / child (6-17 years)
All rates are taxes included.
Reservations & Further Information
Visit available in English and French. Reservation mandatory off season and recommended during season.
Buy your tickets online or contact us for more information or to reserve over the phone.
During season tickets are also on sale in person 30 minutes before departures, right outside the boutique of Notre-Dame Basilica (110, Notre-Dame West Street).